Rheumatic conditions are typically characterized by pain, aching, stiffness and swelling in and around one or more joints. The symptoms can develop gradually or suddenly. Certain rheumatic conditions can also involve the immune system and various internal organs of the body.

Some forms of arthritis, such as rheumatoid arthritis and lupus, can affect multiple organs and cause widespread symptoms.

Arthritis is more common among adults aged 65 years or older, but people of all ages (including children) can be affected.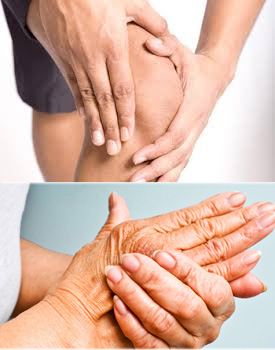 What causes arthritis?
There is no single cause of all types of arthritis; the cause or causes in any given case vary according to the type or form of arthritis. Potential causes for arthritis may include:

Potential causes for arthritis may include:
• Injury - leading to degenerative arthritis
• Abnormal metabolism - leading to gout and pseudogout
• Inheritance - such as in osteoarthritis
• Infections - such as in the arthritis of Lyme disease
• Immune system dysfunction - such as in RA and SLE.

Most types of arthritis are caused by a combination of many factors working together, although some arthritis conditions have no obvious cause and appear to be unpredictable in their emergence.

Some people may be more susceptible to certain arthritic conditions due to their genetic makeup. Additional factors, such as previous injury, infection, smoking and physically demanding occupations, can interact with a person's genes to further increase the risk of arthritis.
Signs and symptoms of arthritis

Just as the causes of different types of arthritis can vary widely, the pattern and location of symptoms of arthritis can also vary depending on the type.

Arthritis symptoms can develop gradually or suddenly, and as arthritis is most often a chronic disease, symptoms may come and go, or persist over time.

There are four key warning signs of arthritis that should prompt a discussion with a health care provider. These include:

1) Pain. Pain from arthritis can be constant, or it may come and go. Pain might be isolated to one place or felt in many parts of the body

2) Swelling. Some types of arthritis cause the skin over the affected joint to become red and swollen, and to feel warm to the touch

3) Stiffness. Stiffness is a typical arthritis symptom, with some forms of arthritis causing increased stiffness upon waking up in the morning, after sitting at a desk, or after sitting in a car for a long time, and others resulting in stiffness after exercise or characterized by persistent stiffness

4) Difficulty moving a joint. Moving a joint or getting up from a chair should not be hard or painful and can indicate arthritis or other joint problem.