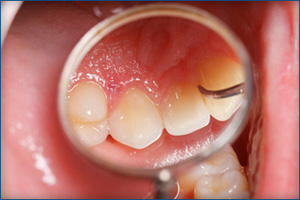 Q. How often should I go to my dentist for a check-up?
Ans. Some people tend to have a rather strange attitude towards checkups. If the dentist does not find something wrong, their time has been wasted. As a matter of fact, a series of successful visits can discourage them from ever seeing their dentist and hygienist again. The idea that you should only see the dentist when something is wrong is not only ridiculous but can end up costing you a lot of money, comfort and time.
Q. I am afraid of going to the dentist ... What can I do?
Ans. Fear of the dentist is quite common and many people are as fearful and concerned as you may be. However, because fear of the dentist is so common, your dentist and his/her staff are also well aware of this and are properly trained to work with you in helping you to overcome these fears. Notify your dental team about your concerns and questions. You will find they are eager to work with you to make your visits pleasant. Asking questions about your mouth and proposed treatment will help to remove fear of the unknown and give you an opportunity to become involved in your dental health. Most importantly, remember that your dental team is eager to work with you, not just on you,in order to achieve a mutual goal - maintaining the health of your smile.
Q. How does a tooth decay?
Ans. A substance known as plaque causes tooth decay. Plaque is a clear bacteria laden film, which develops on the teeth. The bacteria in plaque interact with the starches and sugars we eat and form an acid, which breaks down or de-mineralizes our teeth. As this process is going, on our saliva along with properties it has, acts to help re-mineralize teeth. When the demineralization process is faster than that of remineralization a cavity occurs.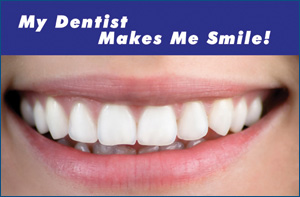 Q. What is plaque and why is it bad?
Ans. Plaque is a clear sticky film of bacteria that constantly forms on teeth. As plaque collects it forms a hard layer of tartar (or calculus) particularly in hard to reach areas between teeth and near the gumline.

Bacteria found in plaque create toxic chemicals that irritate the gums. Eventually these bacteria cause the underlying bone around the teeth to be destroyed, a condition known as gum disease. Recent research suggests that gum disease is linked to other health problems including heart disease, stroke, pneumonia and some pregnancy complications.

Removal of plaque with brushing and flossing on a twice daily basis and removal of tartar by your dentist and dental hygienist is the first step in defeating gum disease. By the time gum disease begins to hurt, it may be too late. Seeing a dentist regularly can help prevent this and many other problems.


Q. What can I do about sensitive teeth?



Ans.
Sensitivity toothpaste, which contains strontium chloride or potassium nitrate are very effective in treating sensitive teeth. After a few weeks of use you may notice a decrease in sensitivity. Highly acidic foods such as oranges, grapefruits and lemons, as well as tea and soda can increase tooth sensitivity, and work against any sensitivity toothpaste. If you do not get relief by brushing gently and using a desensitizing toothpaste, see your dentist. There are special compounds that can be applied in office to the roots of your tooth to reduce—if not eliminate—the sensitivity. High-fluoride containing home care products can also be recommended to help reduce tooth sensitivity.

Q.
How can I prevent cavities?



Ans.
You can certainly minimize the number of cavities you get. Always spend two to three minutes brushing your teeth. It takes that long to get rid of the bacteria which destroy tooth enamel. Do not brush too hard. It takes very little pressure to remove bacteria and plaque. Floss at least once a day. It is the only way to get bacteria from between your teeth.

Watch the sugar you eat. There is sugar in candy, fruits, crackers and chips. These are the foods that the bacteria in your mouth like best. Be mindful of foods like raisins and peanut butter that stick to your teeth. They can provide a constant supply for the bacteria eating into your teeth. Try to minimize the times during the day when sweet items are eaten and clean your teeth afterwards.

If you cannot brush after a meal, rinse your mouth with water—which can help to remove food from your teeth. Chewing sugarless gum after a meal can also help. Chewing stimulates the flow of saliva which acts as a natural plaque-fighting substance.

Do not forget your regular dental visits. Good dental habits will go a long way toward a no-cavity visit.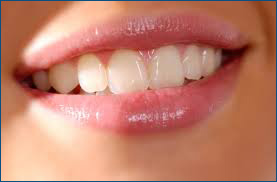 Q. What causes bad breath?


Ans. While bad breath (or "halitosis") can be linked to numerous systemic diseases, the majority of bad breath originates in the mouth. A dry mouth or a low salivary flow can also influence bad odor.

There are two main goals in the management of bad breath. First, controlling the bacteria that produce the sulfur compounds and second, to neutralize the sulfur compounds that are produced.


Q. What is a root canal?
Ans. Root canal therapy is intended to be a tooth saving procedure that removes the pulp, or living tissue from inside a tooth. Each tooth typically has from 1 to 3 roots and each root has 1 or 2 tunnels or canals that stretch the length of the root. In a healthy tooth, these canals are filled with tissue (consisting of the nerves and blood vessels) that keeps the tooth alive and provide sensations like hot and cold. Sometimes the tissue can become damaged or diseased due to decay, fracture or trauma. This in turn can cause a toothache or there may be no pain at all.

During root canal treatment a hole is created in the top of the tooth to locate the canals. The dentist cleans and disinfects these canals and seals them with a special filler material. Root canal therapy is highly successful and with todays technology can be painless.


Q. Do I really need x-rays?



Ans.
Dental x-rays are taken routinely by your dentist. There are many diseases and dental defects, which can not be seen by the naked eye, especially where teeth are concerned. These may include such things as decay under old fillings, teeth trapped below the gums, cavities between the teeth, bone loss as a result of gum disease and changes in either jaw bone structure which can be affected by many systemic diseases.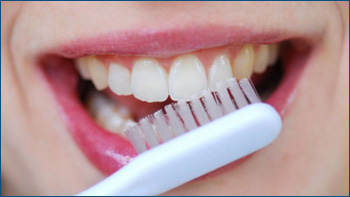 Q. Why should I floss, isn't brushing enough?



Ans.
You should floss to reduce the number of bacteria in your mouth. There are millions of these microscopic creatures feeding on food particles left on your teeth. This bacteria lives in plaque which can be removed by flossing. Brushing your teeth gets rid of some of the bacteria in your mouth. Flossing gets rid of the bacteria your toothbrush can't get to. That's the bacteria hiding in the tiny spaces between your teeth. Brushing without flossing is like washing only half your face. The other half remains dirty.

If you do not floss, you allow plaque to remain between your teeth. Eventually it hardens into tartar. Plaque can be removed by brushing. Only your dentist can remove tartar.


Q. How can I get my kids to brush their teeth?



Ans.
Make it fun! If you are enthusiastic about brushing your teeth, your children will also be enthusiastic. Children want to do the things their parents do. If your children see you brushing your teeth and displaying good dental habits, they will follow.

Checking Plaque Removal – To see if any plaque has been missed, you can use a disclosing (staining) tablet or solution. These products are made of harmless vegetable dyes that stain the plaque a bright color, so that you can see where the plaque is.

Begin to take your children to the dentist at an early age. All children should be seen by their 1st birthday or 6 months after the eruption of the first tooth. Ask your dentist for other creative ways to get children to brush their teeth.