Dental Services :
Bleaching :


What is tooth whitening?
Tooth whitening can be a very effective way of lightening the natural colour of your teeth without removing any of the tooth surface. It cannot make a complete colour change, but it may lighten the existing shade.
Why would I need my teeth whitened?
There are a number of reasons why you might get your teeth whitened. Everyone is different; and just as our hair and skin colour vary, so do our teeth. Very few people have brilliant-white teeth, and our teeth can also become more discoloured as we get older.

Your teeth can also be stained on the surface by food and drinks such as tea, coffee, red wine and blackcurrant. Smoking can also stain teeth.'Calculus' or tartar can also affect the colour of your teeth. Some people may have staining under the surface, which can be caused by certain antibiotics or by tiny cracks in the teeth which take up stains.
What does tooth whitening involve?
Professional bleaching is the most usual method of tooth whitening. Your doctor will be able to tell you if you are suitable for the treatment, and will supervise it if you are. First the dental team will put a rubber shield or a gel on your gums to protect them. They will then apply the whitening product to your teeth, using a specially made tray which fits into your mouth like a mouthguard.

The 'active ingredient' in the product is usually hydrogen peroxide or carbamide peroxide. As the active ingredient is broken down, oxygen gets into the enamel on the teeth and the tooth colour is made lighter.
How long does this take?
The total treatment can usually be done within three to four weeks. First, you will need two or three visits to the dentist. Your dental team will need to make a mouthguard and will take impressions for this at the first appointment. Once your dental team has started the treatment, you will need to continue the treatment at home. This means regularly applying the whitening product over two to four weeks, for 30 minutes to one hour at a time.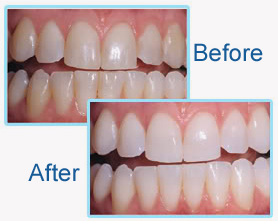 However, there are now some new products which can be applied for up to eight hours at a time. This means you can get a satisfactory result in as little as one week.
What other procedures are there?
There is now laser whitening or 'power whitening'. During this procedure a rubber dam is put over your teeth to protect the gums, and a bleaching product is painted onto your teeth. Then a light or laser is shone on the teeth to activate the chemical. The light speeds up the reaction of the whitening product and the colour change can be achieved more quickly. Laser whitening is said to make teeth up to five or six shades lighter.
Crown Bridges

Why Is a Dental Crown Needed?
A dental crown may be needed in the following situations:
To protect a weak tooth (for instance, from decay) from breaking or to hold together parts of a cracked tooth
To restore an already broken tooth or a tooth that has been severely worn down
To cover and support a tooth with a large filling when there isn't a lot of tooth left
To hold a dental bridge in place
To cover misshapened or severely discolored teeth
To cover a dental implant
To make a cosmetic modification
For children, a crown may be used on primary (baby) teeth in order to:
Save a tooth that has been so damaged by decay that it can't support a filling.
Protect the teeth of a child at high risk for tooth decay, especially when a child has difficulty keeping up with daily oral hygiene.
Decrease the frequency of general anesthesia for children unable because of age, behavior, or medical history to fully cooperate with the requirements of proper dental care.
In such cases, a pediatric dentist is likely to recommend a stainless steel crown.
What Types of Crowns Are Available?
Permanent crowns can be made from stainless steel, all metal (such as gold or another alloy), porcelain-fused-to-metal, all resin, or all ceramic.
Stainless steel crowns are prefabricated crowns that are used on permanent teeth primarily as a temporary measure. The crown protects the tooth or filling while a permanent crown is made from another material. For children, a stainless steel crown is commonly used to fit over a primary tooth that's been prepared to fit it. The crown covers the entire tooth and protects it from further decay. When the primary tooth comes out to make room for the permanent tooth, the crown comes out naturally with it. In general, stainless steel crowns are used for children's teeth because they don't require multiple dental visits to put in place and so are more cost- effective than custom-made crowns and prophylactic dental care needed to protect a tooth without a crown.
Metals used in crowns include gold alloy, other alloys (for example, palladium), or a base-metal alloy (for example, nickel or chromium). Compared with other crown types, less tooth structure needs to be removed with metal crowns, and tooth wear to opposing teeth is kept to a minimum. Metal crowns withstand biting and chewing forces well and probably last the longest in terms of wear down. Also, metal crowns rarely chip or break. The metallic color is the main drawback. Metal crowns are a good choice for out-of-sight molars.


Porcelain-fused-to-metal dental crowns can be color matched to your adjacent teeth (unlike the metallic crowns). However, more wearing to the opposing teeth occurs with this crown type compared with metal or resin crowns. The crown's porcelain portion can also chip or break off. Next to all-ceramic crowns, porcelain-fused-to-metal crowns look most like normal teeth. However, sometimes the metal underlying the crown's porcelain can show through as a dark line, especially at the gum line and even more so if your gums recede. These crowns can be a good choice for front or back teeth.


All-ceramic or all-porcelain dental crowns provide better natural color match than any other crown type and may be more suitable for people with metal allergies. However, they are not as strong as porcelain-fused-to-metal crowns and they wear down opposing teeth a little more than metal or resin crowns. All-ceramic crowns are a good choice for front teeth.


Temporary versus permanent. Temporary crowns can be made in your dentist's office, whereas permanent crowns are made in a dental laboratory. Temporary crowns are made of acrylic or stainless steel and can be used as a temporary restoration until a permanent crown is constructed by a lab.


Zirconia or milled crown which are digitally constructed either in an office that has the software and hardware to produce them or in a dental lab. Dental offices that have the software and hardware have the ability to produce a crown in one visit with no need for a temporary. These crowns require no impression.
How Long Do Dental Crowns Last?
On average, dental crowns last between five and 15 years. The life span of a crown depends on the amount of "wear and tear" the crown is exposed to, how well you follow good oral hygiene practices, and your personal mouth-related habits (you should avoid such habits as grinding or clenching your teeth, chewing ice, biting fingernails, and using your teeth to open packaging).
Does a Crowned Tooth Require Special Care?
While a crowned tooth does not require any special care, remember that simply because a tooth is crowned does not mean the tooth is protected from decay or gum disease. Therefore, continue to follow good oral hygiene practices, including brushing your teeth at least twice a day and flossing once a day -- especially around the crown area where the gum meets the tooth. Antibacterial mouth rinse can also help.
Orthodontics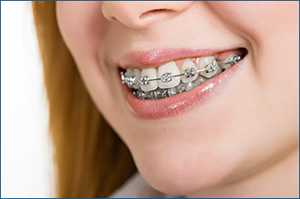 What is orthodontics?
Orthodontics is a branch of dentistry that specializes in treating patients with improper positioning of teeth when the mouth is closed (malocclusion), which results in an improper bite. Orthodontics also includes treating and controlling various aspects of facial growth (dentofacial orthopedics) and the shape and development of the jaw. An orthodontics specialist is called an orthodontist.
An orthodontist uses a range of medical dental devices, including headgears, plates, braces, etc. to help in:
Closing wide gaps between the teeth
Making sure the tips of the teeth are aligned
Straightening crooked teeth
To improve speech or eating (oral function)
To improve the long-term health of gums and teeth
To prevent long-term excessive wear or trauma (of the teeth)
Treating an improper bite
When can orthodontic treatment start?

Treatment will not usually commence until the child is about 12 or 13 years old; when the adult teeth have come through and developed fully. In some cases treatment may start a couple of years later if teeth problems had not become noticeable beforehand.

Children with a cleft lip and palate may require orthodontic treatment before their adult teeth have developed completely.

Good oral hygiene is essential before any orthodontic work can begin. When devices are placed on the teeth, bits of food are much more likely to become stuck; the patient will need to brush much more carefully and more often to prevent tooth decay while treatment is ongoing.

Patients who have not reached good oral hygiene standards beforehand are much more likely to suffer from tooth decay after treatment begins.





Examples of orthodontic appliances
There are two types of orthodontic appliances: fixed and removable ones.

Fixed appliances - the most common devices used in orthodontics. They are used when precision is important. Although the patient can eat normally with fixed appliances, some foods and drinks need to be avoided, such as carbonated drinks, hard sweets, or toffee. People who participate in contact sports need to tell their orthodontist, so that special gum shields can be made.

Examples of fixed appliances include:
Braces - consisting of brackets and/or wires and bands. Bands are fixed firmly around the teeth and serve as anchors for the appliance, while brackets are usually connected to the front of the teeth.

Wires in the shape of an arch pass through the brackets and are fixed to the bands. As the arch wire is tightened, tension is applied to the teeth, which over time moves them into proper position.

A patient sees the orthodontist once a month so that the braces can be adjusted. The treatment course may last from several months to a number of years.

Children tend Fixed space maintainers - if the child loses a milk tooth, a space maintainer will stop the two teeth at either side of the spaces from moving into it until the adult tooth comes through. A band is fixed to one of the teeth next to the space, and a wire goes from the band to the other tooth.


Special fixed appliances - these may be recommended to control tongue thrusting or thumb sucking. Patients may find them uncomfortable, especially when they are eating. Experts say they should only be used if they are really necessary.

Removable appliances - these are typically used for treating minor problems, such as preventing thumb sucking or correcting slightly crooked teeth. They should only be taken out when cleaning, eating or flossing. Sometimes, the orthodontist may advice the patient to remove them during certain activities, such as playing a wind instrument or cycling.

Examples of removable appliances include:
Aligners - an option instead of traditional braces for adult patients. They are virtually unnoticeable by other people and can be taken out when patients brush their teeth, floss, or eat.


Headgear - there is a strap around the back of the head, which is attached to a metal wire in the front, or face bow. The aim is to slow down upper jaw growth, and keeping the back teeth in position while the front ones are pulled back.


Lip and cheek bumpers - specially made to relieve the pressure of cheeks or lips on the teeth.


Palatal expander - an appliance designed to make the arch of the upper jaw wider. The device consists of a plastic plate that is placed in the palate (the roof of the mouth). The plate has screws which exert pressure on the joints in the bones, forcing them outward, thus expanding the size of the palatal area (roof of mouth area).


Removable retainers - these are placed on the roof of the mouth. They are designed to stop the teeth from moving back to their original positions. If modified, they may also be used to stop children from sucking their thumbs.


Removable space maintainers - an alternative to fixed space maintainers.


Splints (jaw repositioning appliances) - they are placed either in the top or lower jaw and help the jaw close properly. Splints are commonly used for TMJ (temporomandibular joint disorder) syndrome.
Periodontics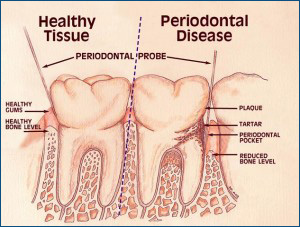 A branch of dentistry that deals with diseases of the supporting and investing structures of the teeth including the gums, cementum, periodontal membranes, and alveolar bone.

Periodontal Specialists

A periodontist is a dentist who specializes in the prevention, diagnosis, and treatment of periodontal disease, and in the placement of dental implants. Periodontists are also experts in the treatment of oral inflammation. Periodontists receive extensive training in these areas, including three additional years of education beyond dental school. They are familiar with the latest techniques for diagnosing and treating periodontal disease, and are also trained in performing cosmetic periodontal procedures.

Periodontists often treat more problematic periodontal cases, such as those with severe gum disease or a complex medical history. Periodontists offer a wide range of treatments, such as scaling and root planing (in which the infected surface of the root is cleaned) or root surface debridement (in which damaged tissue is removed). They can also treat patients with severe gum problems using a range of surgical procedures. In addition, periodontists are specially trained in the placement, maintenance, and repair of dental implants.
Who Should See a Periodontist?

Some patients' periodontal needs can be managed by the general dentist. However, as more and more patients are exhibiting signs of periodontal disease, coupled with research that suggests a relationship between periodontal disease and other chronic diseases of aging, periodontal treatment may necessitate a greater understanding and increased level of expertise by a trained specialist. Patients who present with moderate or severe levels of periodontal disease, or patients with more complex cases, will be best managed by a partnership between the dentist and periodontist.

What Is Periodontal Disease?

If your hands bled when you washed them, you would be concerned. Yet, many people think it's normal if their gums bleed when they brush or floss. In a 1999 study, researchers at the National Institutes of Health (NIH) found that many people over 30 had bleeding gums.

Swollen and bleeding gums are early signs that your gums are infected with bacteria. If nothing is done, the infection can spread. It can destroy the structures that support your teeth in your jawbone. Eventually, your teeth can become so loose that they have to be extracted.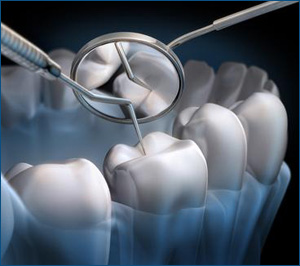 "Peri" means around, and "odontal" refers to teeth. Periodontal diseases are infections of the structures around the teeth. These include the gums, the cementum that covers the root, the periodontal ligament and the alveolar bone. In the earliest stage of periodontal disease, gingivitis, the infection affects only the gums. In more severe forms of the disease, all of the supporting tissues are involved.

For many years scientists have been trying to figure out what causes periodontal disease. It is now well accepted that bacteria in dental plaque are the major villains. Researchers also are learning more about how an infection in your gums can affect your overall health.

In recent years, gum disease has been linked to other health problems. This is a new and exciting area of research. Many questions remain. Studies have produced varying answers about how much of a connection exists between gum disease and other medical problems. More research is needed.
Researchers are studying possible connections between gum disease and:
Atherosclerosis and heart disease — Gum disease may increase the risk of clogged arteries and heart disease. It also is believed to worsen existing heart disease.
Stroke — Gum disease may increase the risk of the type of stroke that is caused by blocked arteries.
Premature births — A woman who has gum disease during pregnancy may be more likely to deliver her baby too early. The infant may be more likely to be of low birth weight.
Diabetes — Diabetic patients with periodontal disease may have more trouble controlling their blood sugar than diabetic patients with healthy gums.
Respiratory disease — Bacteria involved in gum disease may cause lung infections or worsen existing lung conditions. This is particularly important for elderly adults in institutions such as nursing homes. In this group, bacteria from the mouth may reach the lungs and may cause severe pneumonia.
What Causes Periodontal Disease?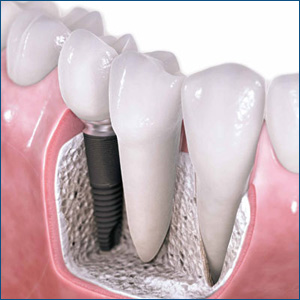 Periodontal disease is caused by bacteria in dental plaque. Plaque is the sticky substance that forms on your teeth soon after you have brushed. In an effort to get rid of the bacteria, the cells of your immune system release substances that inflame and damage the gums, periodontal ligament or alveolar bone. This leads to swollen, bleeding gums, a sign of gingivitis (the earliest stage of periodontal disease). Damage from periodontal disease also can cause teeth to become loose. This is a sign of severe periodontitis (the advanced stage of disease).

You can prevent periodontal disease by practicing good oral hygiene and visiting your dentist regularly. Most people should see the dentist about once every six months. But if you already have gum disease you may need to visit more often.

Daily brushing and flossing, when done correctly, can help to remove most of the plaque from your teeth. Professional cleanings by your dentist or dental hygienist will keep plaque under control in places that are harder for a toothbrush or floss to reach.

If oral hygiene slips or you skip dental visits, plaque builds up on the teeth. Eventually, it spreads below the gum line. The bacteria are protected there because your toothbrush can't reach them. If plaque is not removed, the bacteria will continue to multiply. Your gum inflammation may get worse.

The buildup of plaque below the gumline causes the gums to become inflamed. As the gums swell, they detach from the tooth. This process forms a space, or "pocket," between the tooth and gum. Bacteria can grow rapidly in the pockets. This encourages further plaque buildup.

If left untreated, periodontal disease may destroy the periodontal ligament and the alveolar bone, the structures that support your teeth.

Another reason to remove plaque promptly is that over time it becomes hardened or calcified and turns into calculus. This is commonly called tartar. Even more plaque attaches to calculus because it's a rougher surface than tooth enamel. It's also rougher than cementum, a layer that covers the tooth root. Calculus and plaque build up in layers.

Using a tartar-control toothpaste may help slow the build-up of calculus around your teeth. It can't affect the tartar that already has formed below the gum line, however.

Risks and Prevention
The bacteria in plaque are the main cause of periodontal disease. But several other factors also can contribute. They include other diseases, medicines and oral habits. These factors can increase your risk of gum disease or make it worse once the infection has set in.
Genes — Some people are more likely than others to get periodontal disease because of their genes. But your genes do not make gum disease inevitable. Even people who are highly prone to periodontal disease can prevent or control the disease with good oral care.


Smoking and tobacco use — Smoking increases the risk of periodontal disease. The longer you smoke, and the more you smoke, the higher the risk. If you have periodontal disease, smoking makes it more severe. Smoking is a major reason that some cases of periodontal disease are resistant to treatment. Smokers tend to collect more tartar on their teeth. They often develop deeper periodontal pockets once they have gum disease. They also are likely to lose more bone as the disease gets worse. Unlike many other factors that affect the health of your gums, the decision to smoke or not is under your control. Quitting smoking can play a major role in bringing periodontal disease under control.


Misaligned or crowded teeth, braces or bridgework — Anything that makes it more difficult to brush or floss your teeth is likely to enhance plaque and tartar formation. The more plaque and tartar you have, the greater your chance of developing gum disease. Dentists and periodontists can show you the best ways to clean your teeth, even if they are hard to clean. For example, you can use special tools and ways of threading floss to clean around bridgework or slide under braces. If overcrowded or crooked teeth are a problem, your dentist might recommend orthodontics. This could straighten out your smile and give you a better chance of preventing disease.


Grinding, gritting or clenching of teeth — These habits won't cause periodontal disease. However, they can lead to more severe disease if your gums are already inflamed. These habits exert excess force on the teeth. This pressure appears to speed up the breakdown of the periodontal ligament and bone. In many cases, people can learn to stop this habit simply by recognizing when it is happening and then relaxing. If these efforts don't work, your dentist or periodontist can create a custom guard appliance to help reduce the pressure of clenching or grinding on the teeth. This device is sometimes called an occlusal guard, night guard, mouth guard or bite guard.


Stress — Stress can make periodontal disease worse and harder to treat. Stress weakens your body's immune system. This makes it harder for your body to fight off infection, including periodontal disease.


Fluctuating hormones — Whenever hormone levels go up and down in the body, changes can occur in the mouth. Puberty and pregnancy can temporarily increase the risk and severity of gum disease. So can menopause.


Medicines — Several types of medicines can cause dry mouth, or xerostomia. Examples include certain drugs for depression and high blood pressure. If you don't have enough saliva, plaque is more likely to form. This may lead to tooth decay (cavities). Other medicines may cause the gums to enlarge. This makes them more likely to trap plaque. These medicines include:



Phenytoin (Dilantin and other brand names), used to control seizures
Cyclosporine (Neoral, Sandimmune), used to suppress the immune system in people who have had organ transplants
Nifedipine (Adalat, Cardizem and others) and other calcium channel blockers, used to treat high blood pressure, chest pain (angina) or heart arrhythmias.



Diseases — People with certain diseases have a higher risk of developing periodontal disease. For example, people with diabetes are more likely to get periodontitis than people without diabetes. Their gum disease is also likely to be more severe. Other diseases that increase periodontal disease risk include inflammatory conditions such as rheumatoid arthritis and HIV infection. Having one of these diseases can make the control of your periodontal disease more difficult. But a good periodontist or dentist who is aware of these problems can give you guidance on how to maintain your periodontal health.


Poor nutrition — Nutrition is important for overall good health, including a working immune system and healthy gums and mouth. Severe vitamin C deficiency (scurvy) can cause bleeding gums.


Types of Periodontal Disease :
There are several types of periodontal disease.
Gingivitis
Gingivitis is the mildest form of periodontal disease. It is caused by bacteria in plaque, which produce substances that can harm the gums. Gingivitis is quite common. Almost 3 out of 4 adults over age 35 have some evidence of this condition.
Some groups of people are at increased risk:
People with poorly controlled diabetes
Pregnant women
Teenagers
Women taking birth control pills
People taking steroids
People taking certain other drugs, such as cyclosporine (Neoral, Sandimmune, SangCya), medicine for seizures and blood pressure pills called calcium channel blockers
When you have gingivitis, your gums are red and swollen. They bleed easily with brushing. Gingivitis doesn't usually hurt. However, gingivitis can get worse. It can lead to a more serious form of periodontal disease, called periodontitis.

Gingivitis can be reversed with a combination of professional and home care. You will need a thorough cleaning in your dentist's office, including removal of plaque below the gum line. Then you must practice good oral care at home.

Chronic Periodontitis
Periodontitis is a more advanced disease than gingivitis. Periodontitis involves all of the tissues that support the teeth. This includes both the gums and the bone.

Chronic periodontitis is the most common form of periodontitis. Almost 50% of U.S. adults have some form of it. The older you are, the more likely you are to show signs of periodontitis.

If you have periodontitis, your gums become detached from your teeth. Spaces called pockets form between the teeth and gums. Dental plaque builds up in the pockets. Eventually, this destroys the ligament and bone that support the teeth. In more severe cases, teeth can become loose and even fall out.

Periodontitis usually is not painful. Some people notice that their gums are bleeding. The gums may recede (move back away from the teeth). People also may have bad breath or a bad taste in the mouth. However, periodontitis may not cause any symptoms that you would notice. Your dentist can diagnose it during an examination, however. The condition usually gets worse quite slowly, over several years.

Unlike gingivitis, periodontitis can't be completely reversed. That is because the lost supporting tissues usually can't be rebuilt. However, treatment and proper brushing and flossing can improve your oral health. This can stop periodontitis from getting worse. Stopping the disease in this way can help prevent tooth loss and other serious problems.

Treatment for periodontitis typically includes a thorough cleaning called scaling and root planing. In certain cases, you may need other steps, such as antimicrobial therapy, periodontal surgery or both.
Aggressive Periodontitis
Aggressive periodontitis gets worse faster than chronic periodontitis. Aggressive periodontitis tends to run in families. Recent research suggests that people can inherit an increased risk of this disease. It also is more common in smokers.

Aggressive periodontitis used to be considered a young person's disease, but it is no longer classified this way. However, it is more common in younger people than in older people. Bacteria found in dental plaque also cause this form of periodontitis.

The treatment generally is the same as treatment for chronic periodontitis. However, antibiotics and periodontal surgery are needed more often. In certain situations, aggressive periodontitis can be difficult to treat. These patients do not get better with treatment.
Periodontitis Caused by Conditions of the Body
Periodontitis can be a symptom of diseases that involve the whole body. These include certain types of leukemias, neutropenias and genetic disorders. This type of periodontitis can vary, depending on the medical condition. However, it sometimes looks and acts like aggressive periodontitis. These patients often are young and do not have large amounts of dental plaque.

Treatment involves controlling the medical problem first. This is followed by treatment similar to that for chronic or aggressive periodontitis.

Other medical conditions can make all forms of periodontitis worse. Examples include diabetes and HIV infection. People with these conditions usually have a fair amount of dental plaque and/or calculus (tartar) on their teeth. They are more prone to developing severe periodontitis.
| | | |
| --- | --- | --- |
| | 24 X 7 Helpline (+91 98365 65496) | |