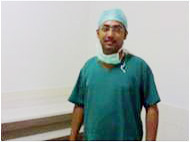 B.D.S, F.R.H.S
IMPLANT (Biohorizons Inc USA)
SMILE DESIGN
(University of California San Francisco& IDA)
Esthetic Dent. (New York University & smile care)
Dr.Panda has dedicated himself to elevating the standards of clinical practice to international quality standards.He did advanced post graduate coarse implantology from SDM College of dental science & Biohorizons Inc.USA. He persued advanced training in esthetic dentistry in affilation with New York University college of dentistry. He is also certified by DENTSPLY ACADEMY for LASER application.

He comes with an exceptional experience of successfully sculpting over 2000 smiles in past years of dental practice. His kneen eye for finer aspects of dental aesthetics & methodical approach to treatment are appreciated by the patients seeking better smiles.
ACTIVE MEMBER OF INDIAN DENTAL ASSOCIATION (IDA)
HON.MEMBER OF IAACD(INDIAN ACADEMY OF AESTHETIC AND COSMETIC DENTISTRY)
LIFE MEMBER OF ISOI(INDIAN SOCIETY OF ORAL IMPLANTOLOGISTS)
He is also certified by IDRR & DENTSPLY ACADEMY for rotary & contemporary endodontics to perform ROOT CANALS of endodontic excellence. He has a certificate in COSMETIC DENTISTRY &SMILE DESIGN from UCSF(University of California San Francisco) &IDA.

Under the guidance of Dr.Yoshitaka Nijitomi from university of Mannitoba he learned creating aesthetics in practice with composite resin. He has many scientific paper presentations registered in his name.He is a regular participant of scientific congress, National & state dental conference,International dental exhibition & meetings.

Dr.Panda is attached to many hospitals across Kolkata city: THE APOLLO CLINICALS,NG NURSING HOME,WELKIN MEDICARE,CALCUTTA MEDICAL CENTRE &The centre director of WHITEZONE DENTAL CLINIC.

He is a CONSULTANT CELEBRITY COSMETIC & L.A.S.E.R DENTIST & IMPLANTOLOGIST

To talk to your DOCRTOR CALL -
+91 9830808221 / 8697724221 / 8697725221