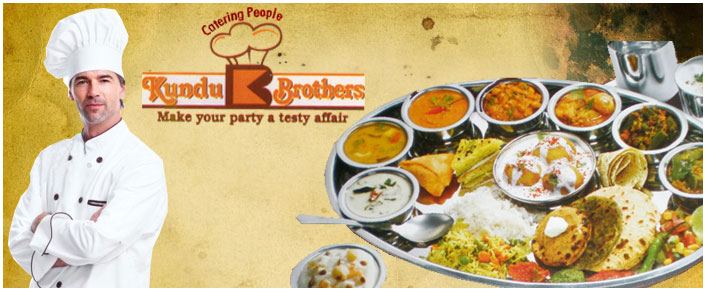 Home
Contact

Kundu Brothers is one of the well known leaders in caterer offering a wide range of services to its clients. It was established in the year 1993 October. We provide a host of exclusive services like food services, catering services and menu designing services. The company has grown leaps and bounds under the able guidance. For your catering service or food service operations, we have a full team of experienced and trained professionals who can help you identify the trouble spots, weaknesses and opportunities for improvement and growth.

At Kundu Brothers, we provide excellent catering services and party organizers for the different requirements of our clients. Whatever be the occasion, like birthday, wedding, anniversary or cocktail parties, we offer the best food with a unique style to fulfill your various requirements. Economically priced, our superior party catering services have earned us huge accolades from our clients. We offer birthday party catering, wedding party catering, theme party catering, cocktail party catering to name a few.

Our Services :

Annaprashan
Birthday Parties
Wedding Parties
Theme Parties
Anniversary Parties
Cocktail Parties
Food Catering Services
General Catering Services
Industrial Catering Services
Office Catering Services

SECURITY

&

INVESTIGATION AGENCY

Security & Investigation Agency is a trusted name in security industries. We are one of the leading experts and specialist in the field of Security Task. We provide security personnel of all ranks belonging to various communities. We are a reputed concern of Kolkata and we are serving many reputed clients to their entire satisfaction. We now wish to extened our service to your Organisation. Please give us a call or mail, so that we can contact you.

ABOUT US | SERVICES | FEEDBACK | CONTACT US | E-MAIL
Copyright (c) calcuttayellowpages.com (P) Ltd