Corporate Yoga Workshops :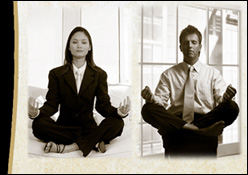 CORPORATE YOGA—STRESS MANAGEMENT PROGRAMME
Statistics reveal that the corporate segment is one of the fastest growing clientele for Yoga and stress management institutes. Companies are beginning to realise that their employees need a structured solution to manage stress and large corporates, multinationals and employee-friendly companies have already set the ball in motion. With the influx of foreign companies, the organisational culture is changing and companies are becoming more open to trying out new methods to boost employee productivity and morale. As a result, Yoga is gaining acceptance as an effective tool, which can well be the beginning of a health revolution.
Working people, especially the young blood, are now realising the importance of the age-old traditional art and science of Yoga and are ready to make that 360-degree turn.
BENEFITS OF CORPORATE YOGA:
Course Content - Asana, Pranayama, Simple Relaxation Techniques
We have conducted Yoga workshops for :
Corporate houses & Banks
Conducted Yoga Workshops for the following corporate houses in Kolkata
Tata Consultancy Services
Capgemini
ABN AMRO Clients
HDFC
Hindustan Copper Limited
Nicco Internet Ventures Limited
ICICI Bank Ltd.
Conducted "Stress Management through Yoga" Workshops in association with Vedic Village (Vedic Resorts & Hotels Pvt. Ltd.) for
Indian Association of Secretaries & Professionals
Philips
For Corporate Workshops call
033 - 2417 1226, +91 98308 62621, +91 94330 03454
E-mail: soham37@yahoo.com, sm_yoga@ymail.com
We conduct different Meditation Classes, General Yoga Classes, Individual/Group Classes, Corporate Yoga Workshops & School Yoga Workshops
FOR DIFFERENT GROUP/INDIVIDUAL CLASSES CONTACT US