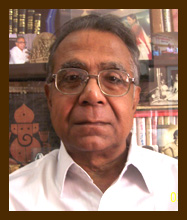 Prof. PALLAB SENGUPTA (b.1940) is a descendant of the late-medieval saint-poet Ramprasad Sen. His father Nandagopal Sengupta, a noted journalist and author, was the literary secretary of Rabindranath.
Sengupta studied in Mitra Institution (Bhowanipore), Presidency College and University of Calcutta. Sengupta obtained his Honours and Master's Degrees in Bengali language and literature, Ph.D in Indian Writings in English from University of Calcutta and D.Lit. in Theoritical Folk loristics from Rabindra Bharati University. He was awarded prestigious Dinesh Chandra Sen Memorial Prize for Life Time Achievement in Folklor, studies by Rabindra Bharati University in 2009.
Prof. Pallab Sengupta began his career in a Kolkata college and then joined Rabindra Bharati University from where he retired as Ishwar Chandra Vidyasagar Professor of Bengali Literature. He also taught Comparative Literature in Jadavpur University as a visiting faculty. He was the president of The Asiatic Society, Kolkata. He has successfully guided about 85 Ph.D and M.Phil researches in different branches of Folklore and some allied areas of Social sciences, Bengali literature and different literatures of the Indian sub-continent.

He also was in the editorial board of well-known literary journal Chatushkon in the late 60's and early 70's of the previous century. He was also a member of the executive committee of Paschimbanga Bangla Academy since its inception for next 25 years. Sengupta was one of the earliest member of Lok Sanskriti Parsad, Govt. of West Bengal. He was the vice-chairman of State Resource Centre of adult education, West Bengal and Trustee of Mahajati Sadan, Kolkata. At present, he is an executive member of Bharatiya Bhasha Parishad, Kolkata.
Pallab Sengupta is a well-known essayist, translator and literary critic—both in Bengali and English.He started his literary pursuit since he was in his teens. He has so far written, edited and translated 20 books both in English and Bengali.
A recognised expert in the Science of Folklore, he is also known to the academic and literary circles in the country as an authority in Comparative Modern Indian Literature, Literature of Bangladesh, American and European Literatures as-well-as, socio-cultural history and classical texts of India .He has more than 500 papers published in last five decades or so published in India and abroad,related to all these subjects.
He is deeply involved in the cultural movements of the country and in this connection has earned a vasst experience of folkloric field-studies. Presently he is a senior vice-president of Democratic Writers and Artists Association, West Bengal.
He was so-far writen and edited (Individually and Jointly) 27 books in Bengali & English. Descripted list with some illustration followers.