• Qualification:

MBBS : Burdwan Medical College And Hospital, (W.B.)
DMRT : 1996, Tata Memorial Hospital, Mumbai
MD [RAD.ONCOLOGY] : 1997, Tata Memorial Hospital, Mumbai.
DNBR : 1997, India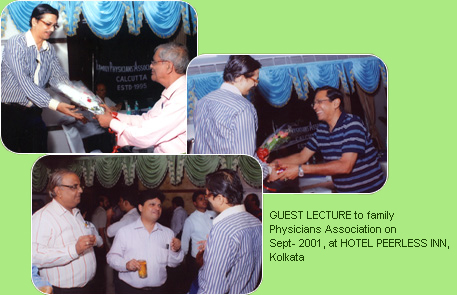 • Clinical Experience:

Visiting Consultant at Meherbai Tata Memorial Hospital, Jamshedpur-1997-98.
Attachment: Chittranjan National Cancer Institute [Regional Cancer Centre] -1998-2001.
• Served In Charitable Trust Hospital:

Mission Of Mercy Hospital, Kolkata — Till 2009.
Subodh Mitra Cancer Hospital, Kolkata -Till Date.
• Current Attachment:

Apollo Clinic, Taratala - Till Date
AMRI Hospital, Salt Lake, Kolkata -Till Date
Apollo Gleneagles Hospital, Kadapara, Kolkata - Till Date
( Mon to Fri - 12noon - 5pm)
Genesis Hospital, Kasba, Kolkata- Till Date
Woodland Hospital (Near Alipore Zoo), Kolkata - Till Date
• Life Member / Executive Committee Member:

1) National-
IMA [Indian Medical Association]
AROI [Association of Radiation Oncology of India]
ICON [Indian Cooperative Oncology Network]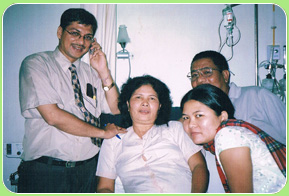 2) International-
PROS [Pediatric Radiation Oncology Society]
ILCS [International Lung Cancer Society]
CPAA [Cancer Patients Aid Association]
ASTRO [American Society of Radiation Oncology]
ESMO - [European Society of Medical Oncology]
• Academics & Distinctions:
Co -investigator in International Breast Cancer Clinical Trial
Organise REVISIT programme in India for Junior Oncology fraternity (SanAntonio Breast cancer gr.)
National and International publication including UICC [United International Cancer Conference]
Invited for consensus meeting for setting guidelines in cancer management
Set up Patients Working Group [PWG] for holding workshop with cancer patients to develop confidence body image and self image, spreadingawareness through NGO called HITAISHINI
Host / Chair / Participate in workshop / symposium / conferences / teaching course both in India and abroad.
Invited for a debate session in the 4th International Seminar on Psycho social oncology held by RGCI & RCC andR&R hospital, Delhi, April 1999.
Participated in a guest lecturer in 17th Annual Conference and Scientific Meet organized by Indian Medical Association [IMA] in Kolkata , June 2005.
Invited to attend LYFE [ Lymphoma Forum of Excellence] programme org. by Is Dept. of Medicine, Charles University held in Prague,Czech Republic in April 2006
Invited as a visiting faculty in the department of Radiation Oncology, Montefiore Medical Centre, Albert Einstein College of Medicine, New York, in February 2007
Invited as a faculty in CME on Palliative care and 3rd Annual Conference of North East Zonal Chapter of Association of Radiation Oncologist of India [AROI] held in Agartala, September 2007.
Organised as an Executive Committee Member in International Union against Cancer [UICC], ICRETT training workshop held in AMRI hospital, Kolkata, October 2007
Invited to attend the Asia Pacific Breast Cancer Summit held in Hochi Minh City, Vietnam, May 2008.
Invited as a panelist to discuss - "Tobacco and Oral cancer and its related myth", on behalf of Global Cancer Trust held in Kolkata, February 2010.
Honoured to be a sole invitee from Eastern zone India to participate in TNT Course held in Mumbai 22nd-23rd may2010, on behalf of Abbott Nutrition

Invited as a panelist in 1st Brinker Awardee programme on Breast Cancer, organised by Artemis Cancer Centre on 13th December 2010.
INVITED FOR PANEL DISCUSSION ON- LIFE AFTER ADJUVANT CHEMOTHERAPY – long term follow up outcomes in young breast cancer patient on 22nd June 2011 held in Hyatt Regency, Kollkata
Co author for Oral Presentation -
Evaluation of sequential Chemo Radiation with Hypo Fractionated Radiotherapy for Unresectable Non Small Cell Lung Cancer – An India experience Dr. S. Saha / Dr. P.Chatterjee
On 4th July 2011 in 14th World Conference on Lung Cancer(WCLC), Amsterdam
Poster Presentation on-
Efficacy and Safety of First line Bevacizumab plus Chemotherapy in non squamous Non Small Cell Lung Cancer (NSCLC)
On 6th July 2011 in 14th World Conference on Lung Cancer(WCLC), Amsterdam



•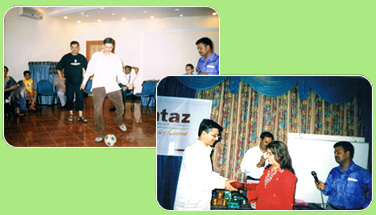 Social Activity:
Founder member of Sabujer Abhijaan, children's wing of stride , an NGO where economically chal lenged and cancer survivors perform in tandem with other children in routine cultural and academic events since 2001. This is an effort to bring the children of lesser god in congruence with the society by few like minded professionals including me. This is a platform for cancer survivors of different age group to volunteer to express their experiences to the society


Work with HITAISHINI, a NGO formed by the Mastectomee Association of India [MAI] West Bengal Unit to spread awareness about breast cancer and supportive care


Participate in organizing lecture & awareness programme on behalf of Aureate cancer Foundation


Volunteer for holding regular health camps & CME in north-east region of India (Aizwal-Bethesda Hospital, Shillong-Woodland Hospital ,Dimapur-Faith Hospital, Civil Hospital Kohima) once every month in tie-up with AMRI Hospitals, Kolkata


Involved in holding regular Cancer awareness programmes & interactive session with cancer survivors in national & local electronic & print media


Organize preventive Cancer check-up (screening) for patients enrolled with the N.G.O. called CPAA (Cancer Patients Aid Association), located in Mumbai
• Awards:
Received Best Paper Award in the 1st SAARC conference on Clinical Oncology held in Dhaka, Bangladesh, in March 2001
Received Bharat Jyoti Award on behalf of IIFS on December 2010.
SELECTED FOR BEST CITIZEN INDIA, published by INTERNATIONAL PUBLISHING HOUSE ON 2010
Rashtra Pratibha Puraskar (2012)
• Publishing Books:
Published a handbook on 'Modern Radiotherapy" in January 2010.
Write regular articles on health related issues on the weekly magazine called "HEALTH" available in select metros only