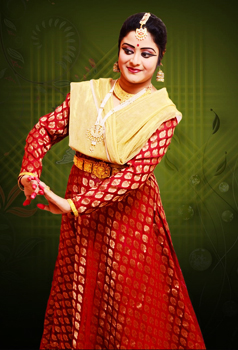 About Soma Ghosh :

Soma Ghosh, born in a music loving family was initiated in kathak dance at the tender age of 5 years under the guidance of Pt. Vijai Shankar, in Lucknow Gharana Later she took training from Pt. Krishna Mohan Misra, Pt.Birju Maharaj. She is Nritya Prabhakar & Nritya Praveen from Prayag Sangeet Samiti (Allahabad), Sangeet Ratna from Bangia Sangeet Parishad. She has topped in All Bengal Music Competition and Paschimbanga Rajya Sangeet Academy.

Solo Performances:
Salt Lake Music Conference (Kolkata)
Ustad Bahadur Khan Memorial Conference (Kolkata)
Uday Shankar Festival (Delhi)
Guru Purnima Festival (Patna)
Allaudin Khan Samaroh (Bhopal)
Pt.Nikhil Banerjee Memorial Conference (Barrackpore)
Parthasarathi Swamy Sabha (Chennai)
North East Festival (Assam)
Sanskrit Arts Festival (Mumbai)
Kal ke kalakar( Mumbai)
Puri Beach Festival
Ghat Sandhya ( Benaras)
All India Music Conference (Kolkata)
Nrityanjali Festival (Mysore)
Kathak Mahotsav( Delhi, Mumbai)
World Dance Day Festival ( Bangalore, Vishakhapatnam)
Bharatiya Vidya Bhavan ( London),
Concerts in Berkley, Yorkshire (UK), Dubai Cultural Meet, Surya festival, Malaysia,
Honours and Awards:
Nrityasree Award from Kala Bikas Kendra, Bhubaneswar
Chitransa Ratna by Chitragupt Samaj, Bihar
Natya Noopura by Mysore Cultural Committee
Nritya Alankar by Parthasarathi Sabha,Chennai
Natya Mani by Chembur cultural committee
Sringarmani by Sur Singar Samsad, Mumbai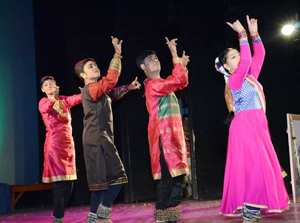 Associated Activities:
She is the artistic director of her own dance institute, Taalim Dance Centre. Several students are now learning kathak under her guidance. Junior, senior, professionals are taking dance training from her. She is an examiner and also judged in several state and national level competitions. She also conducts kathak dance workshops in various parts of the country. Graded artist of Doordarshan, festival director, promotes young talents in the field of dance and music.