Hind Travel Service giving a single window service for Package Tour, Air Ticket ( Domestic & International), E-Rail Ticket , Tour & Package, Passport & Visa Assistant in Foreign and any where in West Bengal.
We are young, dynamic and growing tour service that aims to provide the best packages for people from various walks of life. Cosmos voyage travels was established as an independent tour operating enterprise in 2008.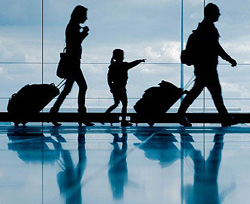 The company has been successful in designing packages, which gives true value for your money. The aim is to make your journey incredible india. We believe in the fact atithi devo bhava guest is the embodied god. The tours are well planned and are flexible with users needs. We offer various tours: cultural tour, adventure tours, heritage holidays, safaris, conferences, and much more in the indian sub continent. We nurture the fact that the requirements of people traveling with us should be taken care of. The priority is to pioneer in this industry by providing excellent customer service. Believe us when we say: we conceptualize your traveling imagination.
Our mission is to build the world's largest and most intelligent travel marketplace, connecting more travelers with the best travel booking services and destination information, and delivering value to travel suppliers and other companies that want to reach this unmatched audience.