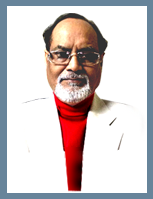 Dr Barman is also life member of :
Association of Physician of India
Diabetic association of India
Cardiologic Society of India

Dr. Sattyen D Barman was formaly Head & Professor of medicine from Vivekananda Institution of Medical Sciences, Kolkata - 700 026. He was also incharge of Diabetic Clinic and medical unit in Assembly of God Hospital.

At present he is visiting Physician in Sishu Mangal Hospital, Woodland Medical Center & Belle Vue Clinic in Kolkata.