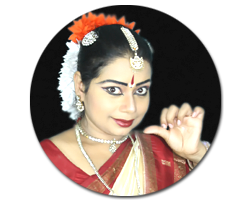 ITS I SIT TO PEN DOWN A FEW WORDS OF APPRECIATION FOR MISS URJOSHWI DUTTA, I DO FEEL A BIT CONFUSED AS TO WHERE SHOULD I BEGIN FROM. BORN ON 22nd MAY,
1981 to Mrs Krishna and Mr. Amit Dutta , Urjoshwi, their first born child was the apple of their eyes. The kid was exposed to dance at a very early age and she was only tookeen to enjoy her dance. Through a close and careful observation one may have inferred that this little girl might some day evolve as a graceful classsical dancer in future. True to the expctation of her teachers and mentors coupled with her relentless labour stx envolved out to be a very promising performer on stage, under the close guidance of her dance Gurus. Meanwhite she completed her Master degree in Fine Arts from Rabindra Bharati University . However Urjoshwi was not a women to sit contentedly showing her prociency only in the field of classical Bharatnatyam dance. She tasted her skills in the field of dramatics too. Her work work experience is also detailed- she has worked as a dance director for Super Cassettes Industries for Pravu Loknath telecasted in April,2004, Kothay Pabo Tare telecasted in july and Rassleela telecasted in December , 2004. She has also worked as a dance teacher for Shinjan, since 1998, and at Technique School of Music since 2002. Although a young star but she has already succeeded in achieving several honours and awards in her bag of fame! Like the Nritya Bhaskar Award in 2005, Neheru Children's Museum Vidyasagar Academy Prize, and so on! She has also staged prestigeous performences at Calcutta Choir in 2008, Udat Sankar Festival, Biswa Banga Sammelan, Odisha Beach Festival, Kolkata Sangeet mela,Fort Willium Golden Anniversary of Indian Navy (2015), Purulia Youth Festival and attached to SATARUPA,Song and Drama Division under Ministry of Information and Broad casting , Govt of India, for a while too.
However Urjoshwi had a beautiful dream to materialize in the deep core of her heart. She had always dreamt of setting up an institution of her own. She succeeded in this venture too and set up her own dance school. Tanjorie Kalakritz in 2006. However in the next few years she set up SHRAYON OF KOLKATA. "Shrayon" which means independent rightly identifies with Urjoshwi her fonder. Shrayon of kolkata has already completed five years of its journey successfully.