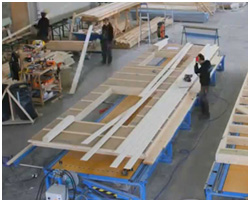 Our profound experience of more than 70 years in manufacturing Wooden Products and Wooden Packaging Materials has helped us in catering to the growing demands of our clients. We provide quality range of Planks, Sleepers, Boxes, Crates, and Beams & Plywood and also meet the requirements of our clients by providing the most effective packaging solutions.
We are backed by a modem infrastructure that enables us in handling bulk orders of our clients. This unit is manned by efficient professionals who maintain strict quality check so as to ensure that we are not harming the environment in any manner possible. To testify the quality of our products, we get them tested through National Test House & RITES. We are timber merchants & suppliar of repute in India. We are established manufacturers of wooden box, wooden sleepers and crate manufacturers in West Bengal. We also manufacture Pinewoods. We are plywood dealers and also supply wooden flooring in kolkata.
These factors have helped us in gaining the trust of our clients across the globe. Some of the reputed names served by us include Bhilai Steel Plant, Kolkata Port Trust, Karnataka Power Corporation Limited, Chennai Port Trust, Hindustan Shipyard and Tata Motors Ltd. Larsen & Tubro, Afcons Infrastructure. Our products are also exported to our clients based in Kenya, Zambia and other countries.
• Business Specifics:
Address: Kolkata, West Bengal, India
Nature of Business: Partnership Firm