A VISION OF MUSIC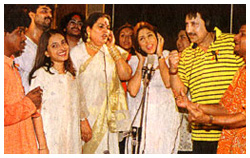 Born in a musically rich family of Tribeni, Bandel, Biswanath stepped into the world of folk songs
with two blind eyes and a vision of music. Gifted with a soul-stirring voice, he honed his skills and
enriched his repertoire under the guidance of his father late Rajen Adhikari, Boul Guru Subal Das Bairagi and the internationally acclaimed folk maestro Prohlad Brahmachari. Biswanath's
enchanting voice caught the attention of Usha Uthup's drummer Mr. Amol Roy and of the diva
Usha Uthup herself. Soon, they introduced Biswanath to the music lovers of Bengal. Today, Biswanath has several folk albums. He has been featured on TV and in a recent all-star video on a national unity promo. Apart from a Govt. Award, Biswanath has won the hearts of thousands with his appealing songs.
HIS VIDEO
Biswanath joined hands and sang together with celebrities like Usha Uthup, Raghav, Rupa Ganguly, Shilajeet, Rupankar, Jojo, and others in 'Agamir Kachhe Shapath, a popular music video for Akash Bangla. His VCD album Mosha Phank Diya is a hot-seller in Bengal.
LIVE ON STAGE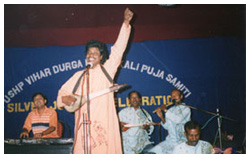 Biswanath is a hot favourite of Bengal impresarios. His performance on stage is sometimes accompanied by vibrant, true-to-the-song dance choreographs. With his golden voice and catching songs he has stolen the hearts of audiences in grand programmes like:- Biswa Banga Sammelan - 2000
Banga Sanskriti Utsav - 2002
Bangla Gaan Mela 2001-2009
Ranchi Banga Sanskriti Utsav-2007 and 2009
VillaiBango Sammellan- 2006
Delhi Durgotsav from 2005-2009
North Bengal Festival -2007
HIS CASSETTES :
The magic of Biswanath's rich and full voice has found expression in :-
Koto Ranger Piriti (Sagarika Accoustronics)
Koinna Amor Nache (Sagarika Accoustronics)
Michael Jackson Ailo Re (Gathani)
Masha Fank Diya (JMD Sound)
Garrenty Achea (Barsha Audio)
Press Review :

(Cllick To Enlarge)
A GOVT. AWARD
Biswanath has been awarded the self-reliant Handicapped Award of Govt. of W.B. for his indomitable spirit defying his visual handicap.
Also in the panel of Indian Council for Cultural Relations (ICCR)
BISWANATH - A TRENDSETTER
It was Biswanath who had first made "Lai Paharir Deshe Ja" and"Maharaja Choy Marile" (first folk song of Cricket) so popular. The song gained such immense popularity that other established artists and Bangla Bands made the song a regular number in their playing lists. Biswanath however doesn't mind. He is happy to see that the song influenced so many people. Biswanath's songs touch the soul because he sings the SONG OF THE SOIL.
THEY SAY
'Blind singer finds place in the sun"
- Hindustan Times.
"He will fly high"
- Prahlad Brahmachari.
"Song of Play in Biswanath is an inspiration of all Cricket player"
-Sourav Ganguly.
Emmotional Appeal :

ABOUT US | SERVICES | FEEDBACK | CONTACT US | E-MAIL
Copyright (c) calcuttayellowpages.com (P) Ltd