Anjana Kusari, a name well known and talked about in the Indian Classical Music circle, has been coming up the stairs of fame and fortune steadily on the basis of an extremely mellifluous rendition of Khayal, Thumri and Bhajan.

The every-watchful guidance & tutelage of her uncle set her l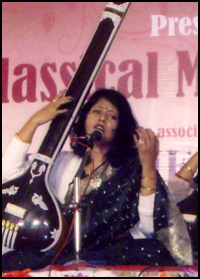 earning the basic essence of classical music, the intricacies of Khayal gayakii, Thumri and Bhajan at a very young age.

Anjana is indeed blessed to have furthered her training under Shri Sukhomoy Pakrashi, a noted disciple of one of the greatest exponents of Hindustani classical Music, Sangeetacharya Pandit Chinmoy Lahiri of Kolkata. Leading to his sad demise, she has received rigorous taleem from Shri Amiya Ranjan Bandhopadhyay, a blessed musician of Vishnupur Gharana.
Presently, a legendary figure of 'Benaras Gharana', Pandit Mohanlal Mishra, known for his exposition of Ragas, Bandishes, accompanied by complex Tan, Laykari and Gayakii, has taken Anjana under his efficient and dignified guidance under Guru-Shisya Parampara.
She has successfully blended the traditional genre of Indian Classical Music imparted by her Guru with her own individuality. A vocalist endowed with rare quality of more than three octave ranges, she paints her music with subtle and intricate movements and rhythmic variation of notes with strong emotion in Vistar and great variety of Tan & Sargam.

Besides a illustrious musical career Anjana is honoured with accolades of various kinds like Sangeet Visharad from Bhatkhande Sangeet Vidyapeeth and Bhramya Dhyanam Puraskar from Swargiya Pandit Bundi Maharaj Sangeet Vidyapeeth.
Various performances of hers in the musical concerts ::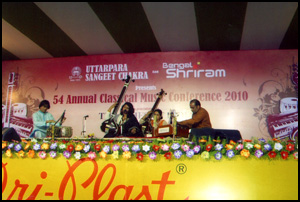 * Uttarpara Sangeet Chakra - 2010
*Indian Classical Music Young Talents conference-Kolkata-2000
*Serampore Music Conference Serampore-1993
*Sw. Pt. Bundi Maharaj Vidyapeeth Mahasamelan-2001,'02,'03
*Classic- A festival of Indian classical Music and Dance-Kolkata-2003,'04,
*Sa-re-ga Sangeet Vidyalaya-Agarpara 2002
*Saptak-G.D.BirlaSabhaghar-Kolkata- 2003
*Mridangam-Bharatiya Bhasha Parishad-Kolkata-2000
*Saptarshi-Aurobindo Institution
*Antara Classical Music Conference-Sodepur-2005
*Hindol Sangeet Chakra-Guptipara- 2003