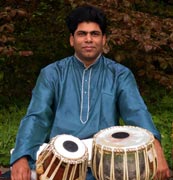 Suman Sarkar, comes from a family where music has been an integral part of his family tradition. His father Late Sri Santosh Kumar Sarkar, himself was a vocalist as well as a music teacher, composer and performer. He first introduced Suman to the discipline of the Tabla. Later Suman went through intensive training under the tutelage of Sri Surhit Chakraborty a direct disciple of Ustad Habibuddin Khan of Ajrara Gharana and Ustad Garni Khan of Delhi Gharana.
Suman proved already a promising tabla player, when he first performed, at a function in Calcutta in early 80s. After that, rigorous riyaz and proper guidence from his Guru has helped him to build his professional career as a tabla player. He has accompanied many noted musicians like Ustad Nishat Khan, Prof. Subroto Roy Chowdhury, Dhruba Ghosh, Partha Bose, Lakxmi Shankar and many others.
He first toured Europe In 1992 and gave a performance at the German Indian Society Darmstadt, Germany. Since then he has successfully toured Europe at regular intervals and performed at major cities in Germany, Austria, France, Italy, Denmark, Sweden, Holland, Belgium and Switzerland. He was invited several times by the Austrian Cultural Ministry to give lecture demonstration at primary and secondary schools in Innsbruck, Austria. He has also Performed several times for the German and Freanch National Radio & Television. He was a visiting Tabla teacher at Clic Music (Sangeet School of India Music) in Brussels.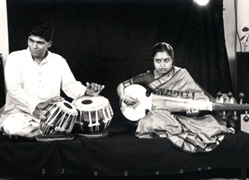 In 1995, the first Fusion album "Himmel und Erde" was released in Germany where Suman played with a German Organ player, which earned him much more popularity in Germany in the field of experimental music. In tha album "Heaven on Earth" he has worked with famous Jazz Musicians of Germany like Budi Siebert, Jurgen Essel, Helmut Weber. He has recently released a couple of new albums called "Doab" and Jugal Bandi Trio with the famous Jazz Pianist Fabian Fionni and Fluitist Fabian Beghan of Belgium which was highly acclaimed by the International Critics and Press. Suman is presently teaching tabla and holding workshops in Brussels, Belgium and Stuttgart, Germany.


Büdi Siebert, Ralf Illenberger, Suman Sarkar und Peter Krämer (November 04)
Eine besondere musikalische Begegnung war das frei improvisierte Nachmittagskonzert von Büdi Siebert, Ralf Illenberger, Suman Sarkar und Peter Krämer. Ohne sich vorher in dieser Formation gesehen zu haben, spielten sie ohne Konventionen die Musik des Augenblicks.
Suman Sarkar - Diesen Freitag Exklusiv;
Virtuose indische Trommelkunst trifft auf europäische Blasinstrumente.

Aufgrund höherer Anfahrtskosten mussten wir kurzfristig den Eintrittspreis erhöhen. Wir bitten dies zu entschuldigen.

Der indische Tabla-Spieler Suman Sarkar wird zusammen mit Buedi Siebert ein ganz besonderes Programm im Lagerhäusle präsentieren. Improvisierte, meditative, indische Klänge im Zusammen- & Wechselspiel mit Buedi Siebert am Saxophon und der Klarinette.