Amongst the finest dancers that India has ever produced Kumari Bandana Sen is one of the greatest. Born of a very cultured, educated family, she was mostly inspired by her late father Sri P. C. Sen, a Barrister of Calcutta High Court. She had her early training in Jaipur Gharana from famous dancer Smt. Jaikumari Debi and later she became fortunate enough to get guidance from the legendary Maestro in Lucknow Gharana Nritya Samrat' Sambhu Maharaj.

It is said that whenever NRITYA SHIROMONI Bandana Sen starts her dance, it appears that a thousand lotus blossoms on the stage. Her dance is exquisite, illuminating and forceful. Style is full of elegance, chaste and captivating. From appearance on the stage, she makes an immediate rapport with the audience for her towering personality. Her interpretation is so impressive that even a layman can appreciate it. Her exposition of 'bhava' (expression) is so graceful and poetic that she is called the Queen of expression'. It is an additional attraction to hear her distinct 'bols' on different 'talas', Urdu 'Sairees' (Poems) and sweet songs.

Till now Bandana Sen, also a graduate in arts from Calcutta University, has performed nearly 4000 programmes throughout India and abroad, including all prestigious music conferences of India. She represented India as Cultural Ambassador in the Xth World Youth festival in Berlin (East Germany) and U.S.S.R. From the very beginning of her dancing career she has received enormous prizes, precious presentations and hearty ovation. Among these are the prestigious Titles 'NRITYA SHIROMONI', 'KATHAK QUEEN', 'BHAV SAMRAGGI', 'NRITYASRI' Gold medals from the President of India, SirJahangir Gandhi. Sir Padampat Singhania. Nawab Sir Reza AH Khan Bahadur; Gold KUKRI from King of Nepal; First prizes from Dr. Gabinda Ballav Panth and Dr. Humayun Kabir in A.I. Inter University Youth Festival held in Delhi and Mysore successively.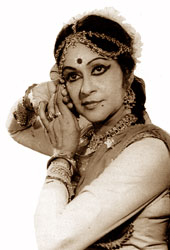 Apart from her dancing career Kumari Sen is bearing the responsibility of Advisory Committee member and Judge of Television, Rabindra Bharati University, All India Post & Telegraph Association, Paschim Banga Rajya Sangeet Academy, All India Fine Arts Association and some other Government and eminent private organisations. She has choreographed many productions on Kathak dance. Such as The history of kathak through the ages, Raagmala, Ritumala, Rhythm of India, Devotees through the ages, Shakuntala, Meerabai, Siddharta etc. Moreover for the upliftment and development of Kathak dance she is running her own institutions Nupur Dance Academy' and Vandana School of Kathak', which are recognised as leading dance institutes of India. Here many students of India and abroad are getting her direct training and guidance. Some of them have received National Talent Search Scholarship in Kathak dance. Some of them have become famous dancers of India.