..:: Introduction ::..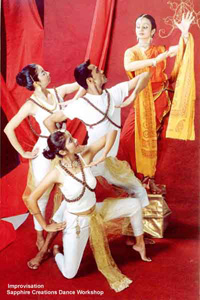 Sapphire Creations is Eastern India's only experimental dance company striving to develop an organic, radical, dynamic and alternative idiom of movement. With a forte for innovation the ensemble is fresh, young and exudes a ready awareness of contemporary global concerns. Sapphire has performed with a new idiom for the last 18 years across 5 continents in various prestigious art festivals and conferences all over the world namely Malaysia, Canada, Australia, Thailand, Italy, Singapore, Sri Lanka, Poland, Bangladesh, United States, Austria, Spain and India.
Sapphire's work approaches issues of gender, art, relationships, society, polity, consumerism and HIV through a global perspective, South Asian sensitivity and an experimental body stylistic. The Sapphire experiment imbibes ancient Indian body history to relevant modern contact and improvisatory solo and group work methods presenting itself as proscenium, site-specific, improvisatory, installations, multimedia work.
Beyond dance Sapphire thrusts on community building for prevention and awareness of HIV/AIDS, promotion of contemporary arts, and dance therapy for different communities. The LINK THE ARTS movement with its sub-initiatives like InArtSync for campus mobilization, Sapphire Quarterly Arts Series to promote new contemporary idioms and spaces and the biennial international alternative arts festival INTERFACE now due for its 6th edition in 2012 are some of the consistent efforts by Sapphire to create a niche for the contemporary arts in India. Currently Sapphire has both School and Repertory sections.
Artistic Director and Choreographer Sudarshan Chakravorty is trained in Bharat Natyam (Guru Bandana Dasgupta), Kathakali (Guru Govindan Kutty) and Thang ta , modern dance and jazz by France-based Nana Gleason, mind-body centering from Christopher Lechner (Germany) and contemporary dance from Michel Casanovas( Switzerland).Pioneer of a dynamic experimental form resulting from individual and ensemble mind-body improvisations, his innovative form raises sensitive contemporary issues. Sudarshan has led the troupe as director-choreographer to performances in India and abroad. Director of INTERFACE, a writer, workshop leader and collaborator he has worked as choreographer in the fields of fashion, film and television. He has been awarded by Oniel De Fellowship by Kalabharati, Canada in 2005 and Shyamal Sen Smriti Purashkar by Swapnasandhani in Kolkata in 2008. Sudarshan nurtures Sapphire as an academy of young ideas, growth and experimentation giving birth to performers, productions and art events creating a whole new renaissance for the arts in India.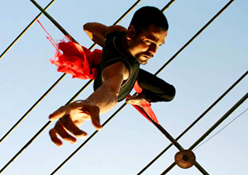 Co-Director Paramita Saha is a 1st class postgraduate in English literature. Trained in contemporary dance by Sudarshan Chakravorty at Sapphire, also trained in modern dance and jazz from France-based Nana Gleason, dance and Movement Therapy under Janet Kaylo and Laurence Higgens from Laban Center, London, she has worked closely on improvisation work residencies with text-body work with Michel Casanovas (Switzerland), Christopher Lechner (Germany). Performing as the lead female dancer from 1999 and leading the company as co-director since 2002 her role in the group includes handling conceptualization, improvisation training and mind body conditioning for school and repertory dancers, documentation, management, copy writing, costume design, and public relations. With her expertise in event concept and marketing, branding, lifestyle management, marketing strategy and brand communication she also runs India's only arts management company Arts Forward promoting novel arts ideas and concepts. Paramita has received the Bharat Nirman Award for Dance in 2007.
..:: Productions ::..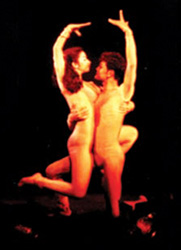 • The Alien Flower (40 mins): India's first full-length ballet on same-gender love based on eight English poems by Sanjay Vasa and Canada based Rakesh Ratti
• Post Mortem (50 mins): A metaphorical dissection of time, space and individual in the context of global consumerism set to beat by Trilok Gurtu and Samul Nori.
• Indian Erotica– Vedas to the Millennium (80 mins): The ballet traces the changing powerequations between man and woman fro m the Vedic age to the dawning millennium, assuming that the aspects of this vital relationship reveal the socio-cultural ,economical and educational situation of a particular age. The ballet scrutinizes Indian history, religion, mythology, literature and sociology to unearth evidence for this innovative notion and presents it through a multimedia production of dance, music and cinema
• Walls (45 mins): A site-specific performance based on an intrinsic narrative of compulsion, repulsion, attraction and deviation using the concept of contact-resistance and the wall as prop, theme and support.
• Positive Lives (40 mins): A dance-visual montage presentation that tells the story of people living with HIV. The project has been organized in collaboration with Sparsha, a Kolkata-based NGO working with HIV Positive people. The visual montage includes and is inspired by real-life stories, anecdotes and case histories. The project is atribute to those who have dared tosay YES! to life.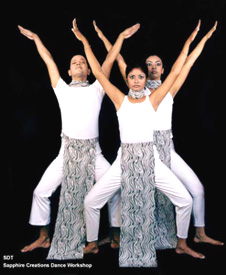 • Rituranga- A Symphony of Seasons (50 mins): It is a pure dance presentation, a celebration of the seasons. The same seasons, grishma(summer), varsha(monsoon), sharat(post monsoon), hemanta(autumn), sheeta(winter) and vasanta(spring) are explored, but through an idiom which is radical, experimental, and a colourful geometry of designs against space and time. Set to Dr Partha Ghose's symphonic raptures, in this new language of dance, Tagore is set free in a realm of non-linguistic, cross-cultural movement and expression.
•Parivahitam– Perspectives in Motion (45 mins): Conceived as a cross-journey between an ordered, disciplined and beautiful past and a chaotic, atomized and unhinged present, a contemporary take on the discomfort of temporality, the nostalgia that brings solace but not a solution. Disbalance and ephemerality is explored with a keen medium of movement that inhabits the watershed between tradition and contemporaneity and negotiates time as a vision of life through dance that can encourage us to move through these troubled times and hope for a constructive, positive and meaningful time not so far away
..:: National Performances

::..
Puri Beach Festival 1996, Uday Shankar Nrityotsav 1996 (Kolkata), Vishnupur Festival 1997, Konarak Music and Dance Festival 1998, Island Tourism Festival 1998 (Port Blair), India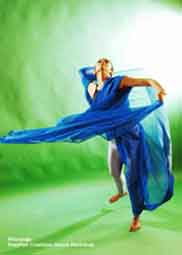 International Centre 1999 (New Delhi) , National Integration Festival 1999 (Sikkim), Millennium Festival of New Choreographies 2000 (New Delhi), The Other Festival 2000 (Chennai), Taj Mahotsav 2001 (Agra), NCPA 2001 (Mumbai), Young Dancers' Festival' 2001, Goa (organized by Sangeet Natak Akademi, New Delhi), World AIDS Day 2001 celebrations organized by UNAIDS (New Delhi), National Festival of Choreography 2002, Kolkata (organized by Sangeet Natak Akademi, New Delhi), Russian Cultural Center 2004 (Mumbai), Puri Beach Festival 2004,2005, Kharavela Festival 2005, 2006 (Bhubaneshwar), Uday Shankar Dance Festival 2005 (New Delhi), Nishagandhi Festival 2005 (Thiruvananthapuram), HCL Concert Series 2006, India Habitat Center (New Delhi), Kalinga Mahotsav 2007(Bhubaneshwar), Common Wealth Youth Games 2008 (Pune), Kalaghoda Arts Festival 2009 (Mumbai), World Newspaper Congress 2009 (Hyderabad), Puri Beach Festival 2009,2010, Banpur Mahotsav 2010 (Govt of Orissa), Delhi International Arts Fetsival 2010, Poetry Festival 2010 (Chennai), Natarani Festival 2011 (Ahmedabad)
..::

International Tours

::..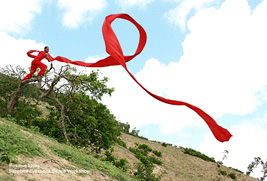 Asia Pacific AIDS Conference 1999 in Kuala Lumpur (Malaysia), Melbourne Fringe Festival 2001 (Australia), Rauxa Cultural Program 2002, Barcelona (Spain), Silabha Arts Festival 2004, Bangkok (Thailand), Africasia Concert 2004 in Bangkok (Thailand), Journees de la Culture 2005, Montreal (Canada), Tour of Canada 2006, Curore de India 2006, Bologna (Italy) , Tagore Society 2007 (Singapore), Grey Festival 2007 (Singapore), Tour of Sri Lanka 2007, Annual International Contemporary Dance Conference and Performance Festival 2009, Bytom(Poland), FAB Awards 2010 Bangkok(Thailand), World AIDS Conference 2010 Vienna (Austria), North America Bengali Conference 2010, New Jersey (USA), World Dance Alliance Global Dance Meet 2010, New York (USA),
..::

Comments

::..
..::

Gallery

::..
Emotica by Ankita
4 Point by Paramita