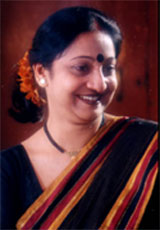 Indrani Sen, daughter of Sumitra Sen, one of the eminent exponents of Rabindrasangeet, is possibly the most talented female vocalist, for her distinctive style combined with well- modulated delivery. She has excelled not only in songs of Tagore and Nazrul , but in Bhajans, Geets, Ghazals, Modern Bengali Songs, devotional and many other forms of light classical music.
Her initial lessons started at home with guidance from her mother. In Rabindrasangeet she was trained under the tutelage of the Legend Late Debabrata Biswas, while Late Bibhuti Dutta trained her in classical and Purabi Dutta guided her In Nazrulgeeti. Biman Mukherjee has also been her mentor in a variety of Bengali songs like Toppa, Thungri O puratoni and Raag Pradhan. Her professionalism and dedication to her music has been a legacy of these great musicians.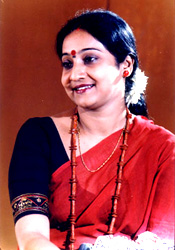 Her Hindi and Gujrati renditions of the songs of Tagore and Nazrul have been appreciated by music lovers. Her live performances all over India and in various cities of the USA, BANGLADESH, UK Switzerland, Australia, Canada, Kuwait, Dubai & Qatar have won the hearts of many.
She has, to her credit, a number of records, CDs and audio cassettes. covering varied fields of Bengali and Hindi music. She is a regular playback singer for Bengali and Hindi films (about 150 till date) and TV serials (160 till date) and recipient of many awards, including the Double Gold Disc, B.F.J.A. Award for three consecutive years, Uttamkumar and Hemanta Memorial Award, Ujala Anandalok Award, Michael Award, Ananda Sangeet Critics Award, Gouriprasanna Award, Lions Award, Pramathesh Barua Award Alfa Gourab Award and lately, Bharat Nirman Award many more such recognition.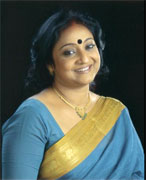 She has an outstanding academic career too. She stood third in West Bengal in the Humanities Group and came first among the girls in H.S. examination. She also obtained first class Master's Degree in Economics from Jadavpur University. An Associate Professor and Head of the Department of Economics in a leading college of Calcutta, she has acquired a Ph.D. degree under the University of Calcutta in Economics in the field of foreign trade.
Being a passionate driver, she has participated successfully in the First Women's Car Rally in Calcutta, organized by CalcuttaMotor Sports Club and Goodyear India Ltd.
Besides being a distinguished academician and music celebrity, Indrani is the Chief Trustee of "Anil Kumar Sen Memorial Trust" (AKSMT) set up by her in memory of her late father Sri Anil Kumar Sen. This trust is working for the cause of the cultural workshops, extending financial aid to elderly trainers, musicians and welfare organisations. It has ventured into a centre for music and dance under the name and style "DISHA" as a cultural wing of this trust. Where around 300 students are being groomed by her along with other exponents of music and dance.