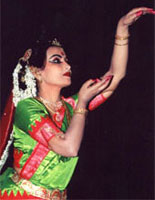 A performer, choreographer and guru, Arundhati Roy is prominent among odissi dancers of India today. Having groomed herself initially under Guru Murulidhar Majhi under and later under Late Padmabibhushan Guru Kelucharan Mahapatra for the last thirty-five years. She has not only synthesised the pure odissi form of the two maesteroes but added colour & vibrancy to her art through new improvisations.
An M.A. in Odissi from Rabindra Bharati University she has to her credit various accolades both in India and Abroad.

Arundhati's dance recitals in Sweden, Germany, Belgium, Britain, U.S.A, Vietnam & Singapore, Bhutan have gained her much international attention.

She is the Secretary of the Odissi Dancers forum of Calcutta and has organised classical dance festivals on the occasion of Guruji's Birth Celebration & Sradhanjali for Guruji and Late Sanjukta Panigrahi.
She is an enlisted artist in Doordarshan and has performed solo & group in Calcutta Doordarshan & National Program of Dance several times.
She was an announcer of CALCUTTA DOORDARSHAN for ten long years. She has lately been experimenting with film and television as an actress in films produced by APPLAUSE ENTERTAINMENT & television series "Bastab" produced by BAG FILMS telecasting by TARA BANGLA channel.
Arundhati Roy is an esteemed choreographer who is known for her varied experimentations with her media. Her stage productions range from combining different classical forms in Tagore dance dramas, modern contemporary themes and poetries.

She has choreographed Tagore's Bhanusingher Padabali, Borishono Mukhorito Aji (Monsoon Ballet), Navarashe Nari, Urvashi. Urvashi based on the poem 'Urvashi. Arundhati has performed several times in programs organized by West Bengal State Music Academy, Tagore Birth Celebrations and Uday Shankar Nritya Utsav. Her recent choreographed musical "Pravartan" is an experimentation of its own kind. It explores the evolution of Indian Classical Dance form from its tradition to its present state.
In May 2011, she was invited by Singapore Tagore Society to choreograph "Navarashe Nari " (based on Tagore Songs) by the artists of Singapore and Calcutta. It was highly appreciated by critics and audiences.
She has also choreographed several classical forms with odissi in Kathak-Odissi Jugalbandi. She also choreographed for Saoli Mitra's famous drama "NATHA BATI - ANATHABATA".