ANUP GHOSH was born in 1951 and is a science graduate of Calcutta University. From childhood he took part in social work with the inspiration and help of his parents. He is well known with activities in different Social organizations. He is a Play Writer, Director, Actor, Recitor, and Programme Compere also for which he is widely accepted.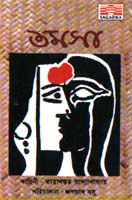 For more than three decades he is involved with stage acting and other related works. Till today he has acted over 200 plays and street corner plays. He was very close colleague of theatre maestro Late Sambhu Mitra. He is also very close to Satya Bandopadhyay in the Utpal Dutta's Gharana. In regard to play he was very much attached to Late Ajitesh Bandopadhyay, Sabitabrata Dutta, Santosh Dutta, Amar Ganguly, Shri Bibhas Chakraborty, Shree Jagannath Basu and Shyamal Ghosh.

He is a regular participant with 'B' High Grade at the Akashvani Centre in the plays. He is also a popular presenter and anchor of the FM Channel in the Akashvani Kolkata. In Bengal and other states also in our neighbour country Bangladesh he has earned a lot of fame in acting, anchoring and recitation, where by he was awarded with felicitations . A few of his famous plays were also captured in Cassettes. He is the anchor of the most popular FM talk show " Rakter Bandhaney" produced by WB Voluntary Blood Donors Forum & WB State Aids Prevention & Control Society.
Colonial folk songs of various states, Bengali songs with difference and in stage singing too he is well recognized. He gives tuition in recitation and acting regularly. At present he is attached to India Govt. Audit & Accounts Department .

He is a centurion Blood Donor having a leading role in non-remunerated Voluntary Blood Donation Movement under the guidance of West Bengal Voluntary Blood Donor's Forum and Federation of Blood Donor Organisations of India.

A few of his Play Writes – Fera , Asami Abhimanyu, Masipisi, Kebolie Chhabi, Annada
Performance in TV - He participated in different TV Programmes as anchor or guest speaker in different channels.
Mentionable Acting & Direction of Plays – Bisarjan , Rakta Karabi, Pherari Fouj, Suryashikar, Titumir, Sajano Bagan, Vietnam, Bibhav, Ami Hitler, Sanghat, Samparka, Sandhyamoni, Sesh Drishya and Upekshito Arjun.

Participants with him – Satya Bandyopadhyay, Arun Mukhopadhyay, Debraj Roy, Mita Chottopadhyay, Sukla Bandopadhyay, Maya Ghosh, Urmimala Basu, Bimal Deb, Soumitra Basu, Sumita Basu, Anamika Saha, Manu Mukhopadhyay, Mrinal Mukhopadhyay, Nimu Bhowmik, Nandini Maliya, Paran Bandopadhyay, Rita Dutta Chakraborty, Suranjana Dasgupta, Gargi Roy Chowdhury, Dhiman Chakraborty, Sipra Lahiri, Debesh Roychowdhury, Amarnath Mukhopadhyay and Angana Basu.
Recorded plays in Cassettes and CDs Tamasa, Tasher Ghar, Ashray, Jiban Sathi , Rakta Karabi.
A few famous audio plays written – Bandhu, Mukhosher Aralle, Harano Prapti, Punaragamanaya cho , Bikalpa Sandhan, Tarpar, Ratri Prabhat, Apanjan & Prize.
Foreign Tour – Bangladesh (2001, 2002, 2007)
Famous Ariel Plays – Mukta Dhara, Kamala Kanter Daptar, Megh-Pahar, Abhisapta Abhisar, Sakher Tadanta, Jhogra, Itihas, Baro gharer meye, Amritadhara, Caraccus, Him Sishu, Galelio.
Stage Performances – Biser Bansi, 1799, Pathik, Ekti Khola Chiti O Amra, Dakhol, Prithivir Janya, Mukti Diksha, Ashabari, Aajo Ma, Churna Shrinkhol, Dhurba Tara, Dui Mahal, Baikunther Khata, Rather Rashi, Akaler galpo, Patabhumi, Bhanga Gara, Gandha Bichar, Deoaler Likhan, Nepathya Kahini, Dharmer Dhwaja, Faans, Itihasher KathGaray, Juto, Ektu Bhabi, Sach Ka Samna.