Home | About Us | Mission & Vision | Organogram | Research Activities | Services | Special Achievement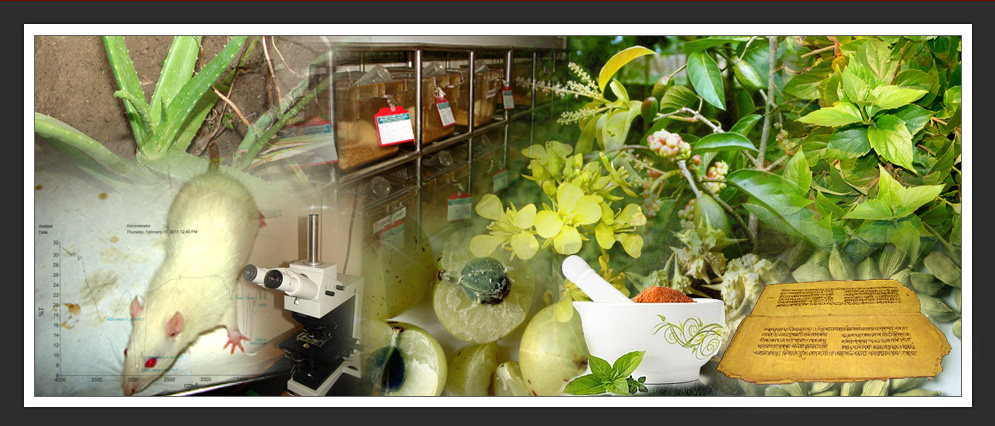 Ph.D Programme | Committees | Notice & Form | Photo Gallery | Contact Us | Site Map | Related Sites
Research Activities
CLINICAL RESEARCH
HOSPITAL DIVISION :

A) PANCHAKARMA UNIT -
Patients of different kind of Santhaparnthak and Apatharpanathak diseases were treated with Panchakarma treatment procedures as a special Ayurvedic bio-cleansing treatment modality mainly for IPD cases and few OPD cases. The patients with diseases like Amavata (Rheumatoid Arthritis), Madhumeha (Diabetes mellitus), Katishoola (Low Back Pain), Sandhivata (Osteoarthritis), Pakshaghata (Post Stroke Paralysis), Vata Vyadhi (Neuro-mascular diseases), Gridhrasi (Sciatica), Kitibha (Psoriasis), Mansika Vikara (Neuro-psychiatric disorder), Occupational stress disorders, etc. were undergone with different kind of Panchakarma procedures like Abhyangya (Massage), Snehapana (Internal consumption of Medicated Oil/ghee), VamanaKarma (Induced Vomiting), Vasthikarma (Induced Medicated suspension as enemata), Nasyakarma (Nasal application), Virechanakarma (Induced Purgation), Sirovasti, Pichhu, Dhara, Vaspa swedana, Nadi swedana, Patrapinda pottali swedana, Shasthika Shali Pinda sweda, Matra Vasti, Ksheeravasthi, Kayaseka etc. in regular manner.

B) ANO-RECTAL UNIT -
Different ano-rectal cases like Arsha (Piles/Haemorriods), Bhagandara (Fistula-in-ano), Parikartika (Fissure-in-ano) and other similar conditions were treated by Kshara sutra therapy and good numbers of cases were used to come in this clinic for taking the Ksharasutra treatment facilities. The Ksharasutra surgery is generally conducting biweekly, i.e. Tuesdays and Friday with free of cost. The Ksharasutras are also being prepared in this Institute maintaining the standard procedures.

C) SPECIAL GERIATRIC HEALTH CARE CLINIC -
This Institute is conducting the special Geriatric Health Care Clinic for the aged peoples of the community. The clinic is carrying out once in week (Tuesday) with special emphasis on the progressive and degenerative diseases. The free consultation, blood sugar tests, ECG, x-ray are being provided for them. The free medicines are also being dispensing for 2 weeks. The good numbers of patients are used to come for their different age related problems, like Vatavyadhi, Sandhivata, Madhumeha, Asmari, Hridroga, Manashika vikara, Vyanabala Vaisamya, Arsha, Bhagandara, Parikartika, Siragranthi, Amlapitta, Grahani Roga, Twak roga etc.

D) SPECIAL FLU LIKE ILLNESS CLINIC -
This Institute is conducting the special Flu like illness clinic with special focus on treatment / prevention of flu like illness. This Institute has initiated the support & care facilities from 22nd September 2009. This special clinic is open in every day from 11AM to 3 PM. The Bengali translation of information regarding the swine flu was made and brochure of the same is being distributing among the patients and community (available in the dispensary). The initiation has been taken for arrangement of supply of medicines with free of cost like Guduci Ghanavati, Trikatu Churna, Talishadi Churna, Tulsipatra Kwatha, Sudarshana Ghanavati, Tribhubankirti Rasa, Shitopaladi Churna, Amritarishta, Amrittara Kashaya, Lavangadi Vati, Khadiradi Vati, Godanti Mishrana, Sanjeevani Vati, Guggulu Panchapala Kashaya etc.

The diseases like Pratishyayas, Vatashalaismic Jwara, Avian Flu, Swine Flu, Viral Fever, and Rhinitis with fever, Rhinitis with cough, other Flu like illness etc. were screened and management was given as per Ayurvedic practice and principles. Good numbers of patients are used to attend this special OPD.

E) X- RAY UNIT -
The radiology work is being conducted after engagement of radiologist and technician. At present, the work is being carrying out in every Wednesday and Friday for the OPD and IPD patients. The free service has given to the BPL cases and trial cases whereas the minimum charge is used to take from APL cases as per Instruction of the Council.

F) IN-PATIENT DEPARTMENT -
Total 171 patients with different ailments were admitted in the IPD of the hospital section during the reporting year, Out of them, 78 patients were males and 93 patients were females. Among them, 27 cases were suffering from Amavata, 41 cases of Sandhivata, 20 cases of Vatavyadhi, 12 cases of Bhagandara and Arsha, 06 cases with Pakshaghata, 11 cases of Kitibha and remaining were cases of Gridhrashi, Katishoola, Katigraha, Pandu, Madhumeha etc. which were admitted on the basis of provisional diagnosis.

The percentage of bed occupancy rate during the reporting period recorded was 75.02%. The bed occupancy is remarkably improved after providing the proper support & care for patients when compared with the previous year.

G) ONGOING PROJECTS IN CLINICAL SECTION -

Documentation of reported episodes of prevention / treatment of Vector borne / infections diseases of Ayurveda & Siddha drugs (Intramural)
This Institute is conducting the documentation of reported episodes of prevention / treatment of Vector borne / infections diseases like Dengue, Chikunguniya, Malaria, Filariasis, Japanese Encephalitis, HIV/AIDS, Kala Azar etc. with Ayurveda & Siddha drugs in the state of West Bengal.



Implementation of National Pharmacovigilance Programme for ASU Drugs as Peripheral Pharmacovigilance Centre (Intramural)
This Institute is conducting the implementation of National Pharmacovigilance programme of ASU drugs as peripheral pharmacovigilance centre (PPC) of CCRAS to screen the Ayurvedic drugs and formulations in the view of adverse drug reactions and or events. As per the causality assessment of the cases being the PPC, it is understood that the fact was happened due to manufacturing defect of the pharmacy as well as non-compliance of GMP, not due to the drug.



Survey, Catalogue and digitization of medical manuscripts in Eastern India
The digitization of medical manuscripts and rare books of Ayurveda was commenced on 1st August 2009 as the part of the project of CCRAS, Hq., New Delhi. Total 03 libraries and repositories were covered for preparation of descriptive catalogue and 1095 descriptive catalogues had been made. Total 382 manuscripts and rare books were digitized at Sanskrit Sahitya Parishat, Bally Sadharana Grandthagar, IPGAE&R at Shayamadas Vaidyashastra Peeth, J.B.Roy State Ayurvedic Medical College & Hospital, West Bengal.



Clinical Evaluation of Ayurvedic drugs in the management of Obesity and Chronic Bronchitis
2 different multi-centric clinical trials as Intramural Clinical Research (IMR) Projects under CCRAS are being started from August 2011. These projects are being approved by the IEC (HR).

H) PATHOLOGY AND BIOCHEMISTRY -
The prime importance of this Department is timely supply of investigational results of the research problem allotted to this Institute. All the investigations are done free of cost to financially backward patients and research patients of this Institute but a nominal charge is being taken from others. The Investigations for both OPD and IPD Patients are being done in this section keeping view to the research problems allotted to this Institute both at OPD & IPD. Total number of Pathological & Biochemical investigations done in this reporting year is 12,202. It includes routine Blood tests (TLC, DLC, Hb%, E.S.R.) different biochemical tests (glucose, Urea, Total Cholesterol, Creatinine, S.G.O.T., S.G.P.T, Triglyceride, Total billirubin, Uric acid, Protein, Albumin, Globulin, Lipid profile, Calcium, Amylase, Alkaline Phosphatase etc.) Immunological, Serological tests i.e. RA Factor, ASO titre, C- reactive protein. In addition to all these, Hematology & Biochemical examination of experimental animals were carried out in this section to provide support to Pharmacology Section for their experimental study.

I) REPRODUCTIVE CHILD HEALTH CARE UNIT -
A family welfare research unit for screening of Oral contraceptive agents was started at RRI (Ay) Klkokata since 1974. Since then the efficacy of Pippalyadi yoga, ACI, Hansaprabha & Vidanga have already been studied. Neem Oil and Pippalyadi yoga (Potentiated with Japakusum bhavana + Anupan Kanjee) were under research programme during the year 2002 to 2007. Neem oil is recommended for the study of local contraceptive agent as vaginal application. The trial was started from August 1999. Fertile women are getting remarkably results by taking Neem oil as local application without getting any side effects. Presently this unit is providing free consultation for reproductive mother during OPD period.

DRUG RESEARCH
DEPARTMENT OF PHARMACOGNOSY

The Department is assigned to carry out pharmacognostical evaluation of crude drugs.

This research wing, named 'Department of Pharmacognosy', came into being in 1970. Ever since our inception, our department has been carrying out pharmacosnostical studies on crude drugs of plant origin. In all, pharmacognostical studies of a total of 225 crude drugs (either whole plant or plant part/s as allocated to this unit by the Council or by the Pharmacy Section, NRIADD, Kolkata have so far been carried out, in which the diagnostic characters of each drug plant were highlighted to identify the genuine samples and to check adulteration (if any) as and when obtained commercially from the market. Apart from the programme project, the studies also included ecological variations of some medicinal plants, viz., Marsilea minuta (Sunishannaka), Bacopa monniera (Brahmi), Centella asiatica (Mandukaparni), etc with special reference to pharmacognosy.

A total number of 89 research papers and abstracts have been published by this unit including one book entitled 'Pharmacognosy of Indigenous Drugs-Vol. 111' containing monographs on 20 single drugs (published by CCRAS). One research project, sanctioned by the central scheme of A.P.C. on 'Development of Pharmacopoeial Standards of ISM Drugs', was also carried out in this unit during the period from 1997 to 2003. The project included pharmacopoeial standards of 10 single drugs and 19 compound formulations.

The thrust areas of the present research work include Collection (if not supplied) and Identification of crude drugs, their Geographical Origin and Distribution, Cultivation, Botanical Description, Therapeutic Uses, Macroscopical and Microscopical Studies (both qualitative and quantitative), Analysis of Powdered Drugs, Fluorescence Analysis (inside UV chamber), Quantitative Test, i.e., Determination of Identity, Purity and Strength (including total ash, water soluble ash, acid insoluble ash, water-soluble extractive and alcohol-soluble extractive), Quantitative Microscopy (including stomatal index, palisade ratio and vein-islet number) and Chemomicroscopical Tests for Cell Contents (calcium oxalate crystal, starch, aleurone grain, fixed oil/fat and mucilage) of Diagnostic Value

DEPARTMENT OF CHEMISTRY
DRUG STANDARDISATION WORK

16 formulations under Reproduction & Child Health project.
45 ingredients (raw drugs) of the Reproduction & Child Health formulations
RCH formulations ,viz. AYUSH BL-oil, kshirabala taila ,Ark-ajwan , Ark-Pudina
Assay of 930 raw drugs for general purchase by the pharmacy deptt. of the Institute.
Standardisation of 05 formulations under WHO project
Standardisation of newly formulated Ayush-56
Twelve formulations under plan programme-2003 to 2008.
Standardization of the drugs sent by HQ: Annabhedi chendooram, Dhatrilauha, GVK, C1- oil, C1-resin, Antarctica Tea, Ayush-Manas
Standardization of drugs prepared by the Pharmacy deptt. of the institute in regular basis.

PHYTOCHEMICAL STUDIES

From 26 Auyrvedic plants. 36 phytoconstituents have been isolated and identified so far
Biological activities have also been studied on some of phytoconstituents & fractions, viz.

Name of Ayurvedic Source
Activity Studied
Phytoconstituents & Fractions
Amarogentin
Chirayita
cancer chemopreventive & anticancer
Polyphenolic Xanthones
Chirayita
Non-steroidal ,anti-inflammatory agents

1,5,8-trihydroxy-3methoxy xanthone

Chirayita
Anti-inflammatory activity enhanced tested
with the bioenhancer (Ocimum santum)
Koenimbin & Kurryom
Surabhi Nimba
Anti-diarrhoeal
Karanjin & pongapin
Karanja
Active against autoimmune disease, psoriasis
Ferulic acid,iso ferulic acid &
2-hydroxy ursolic acid
Jambu
Anti-diabetic
Hexane fraction
Nagkeshara
Mosquito larvicidal Property

DEPARTMENT OF PHARMACOLOGY -
Preclinical safety evaluation of various classical and investigational new drugs (IND) and screening for targeted biological activities. (Source: www.ccras.nic.in)

Studies on 121 single compound and herbal extracts for specific properties like: Anti-stress, Anti-epileptic, Anti-malarial, Anti-inflammatory, Anti-diabetic, Anti-diarrheal, Neuropsychological and toxicological studies etc.

Mainly toxicological studies were carried out since inception on various drugs, Viz Ayush-64 (new formulation), GVK, RCH drugs including the drugs mentioned in plan projection of the section (which was available and procured).

During the year 1999, Pharmacological Research Unit, Varanasi, Pharmacological Research Unit, Kolkata and Chemico - Pharmacological Research Unit, Bhubaneswar were shifted and merged with CRI (Ay), Kolkata and renamed as Pharmacological Research Section.

In the year 2009-2010, toxicological studies of various Ayurvedic drug were conducted in the Department of Pharmacology. In which, toxicity studies of Bhasma Tn, Fn and Cn in rat and mice have been completed.

The anti-diabetic activity study of coded drug AM-FE (which was supplied by Department of Chemistry of this Institute) has been carried out.

Above mentioned all Bhasma were allotted in coded form of which Chronic toxicity studies of Bhasma Tn and Fn have been completed and reported. Chronic toxicity studies of Bhasma Cn are in progress which upon completion will be reported to the headquarters. Acute and sub-acute toxicity of Kasisa Bhasma and Punarnava Mandur in mice and rats have been completed and reported. The chronic toxicity of Kasisa Bhasma in rat is in progress.

Apart from this the Department of Pharmacology has successfully organized a Pre-conference workshop before 42nd Annual Conference of the Indian Pharmacological Society, Kolkata on Research Methods and Scientific Writing-An interactive workshop for postgraduates and beyond in the Institute and an International Conference on Integrative and Personalized Medicine and 42nd Annual Conference of Indian Pharmacological Society in the month of December 10-12th, 2009 at Swabhumi, Kolkata.

During year 2009-2010, the departmental animal house has been renovated in all respect. Separate facilities for housing and breeding of rats and mice have been established along with all basic needs as per norms.

Studies reported during year 2009-2010
Carried out seven toxicity study of Coded Ayurveda Bhasma preparations supplied by CCRAS, New Delhi.

Facilities available:

Animal House with in-house breeding facility approved by CPCSEA
Laboratory for Pharmacological and Toxicological Studies

Statement (in brief) of the work carried out since inception

Studies on 131 single compound and herbal extracts for specific properties like: Anti-stress, Anti-epileptic, Anti-malarial, Anti-inflammatory, Anti-diabetic, Anti-diarrhoeal, Neurological and toxicological studies etc have been carried out with the above said numbers of Ayurvedic, Siddha and marker compounds etc.

At present mainly toxicological studies are being carried out since last 5 years on various drugs, viz Ayush-64 (new formulation), GVK, RCH (Ayurveda and Siddha) drugs, Herbo-mineral and Herbo-metallic drugs including the drugs mentioned in plan projection of the section (which were available and procured) viz. various Bhasmas.

Toxicological Studies of RCH Drugs:
This project is sponsored by Dept. of Ayush, Ministry of Health and Family Welfare, Govt. of India in collaboration with ICMR and allotted by CCRAS, New Delhi for toxicity studies. Total number of 12 formulations of various categories of drugs like Tablets, Avaleham, Granules and Syrups etc. used for the Reproductive and Child Health Care Programme, have been prepared in the Pharmacy Section of the Institute. The toxicological studies of all these 12 drugs viz Ayush BC, Ayush BRL, Ayush SS Granules, Ayush VRG, Ayush KVM, Ayush AG, Ayush PK, Ayush SDM, Ayush GG, Ayush PG, Ayush LND and Ayush BR Tab have been carried out and reported to be non toxic.

Toxicological studies of JAMA Drugs:
Herbo-mineral Drugs claimed to be toxic as per article published in "Journal of American Medical Association" (Dec, 2004). The seventeen herbomineral drugs reported as toxic in this article, out of which five drugs were given to this Institute for toxicological studies. The toxicity of five drugs viz Karela Capsule, Mahasudarshan Churna, Gesari Pill, Balguti Kesaria and Mahasudarshan Churna have been carried out and reported to the Head Quarters.

Toxicological Studies of RCH Siddha Drugs:
This project is sponsored by Dept. of Ayush, Ministry of Health and Family Welfare, Govt. of India in collaboration with ICMR and allotted for the toxicological studies to CSMDRI, Chennai. From CSMDRI all this seven Siddha drugs has sent to be this Institute for the toxicological studies. The toxicological studies of all these 07 drugs have been carried out and reported to the headquarter viz. Ayush VAC, Ayush TCC, Ayush MM, Ayush P3, Ayush ME, Ayush EA and Ayush TCT. All these RCH Siddha Drugs supplied by CRIS, Chennai.

Toxicity of certain Ayurvedic Drugs:
Toxicological studies of certain Ayurvedic drugs viz GVK, Ayush-64, Dhatri Louha and Gajkesari. The toxicity of all the drugs has been completed and reported to the Head Quarters.

Toxicological Studies of Bhasma Drugs:
This project is sponsored by Dept. of Ayush, Ministry of Health and Family Welfare, Govt. of India, to the CCRAS, New Delhi. Four coded samples of Bhasmas (viz. Tn, Fn, Cn and Bn) have been supplied by CCRAS New Delhi for toxicity studies. The toxicity studies (Sub-acute and Chronic) of Bhasma Tn, Fn and Cn has been completed in mice and rat both separately, and reported to the Headquarter. In life phase toxicity studies of Bhasma Bn are in progress.

Toxicological Studies of Other Institute:
This project is sponsored by National Institute of Ayurveda, Jaipur. The samples of Kasisa Bhasma and Punarnava mandur have been supplied by NIA, Jaipur for toxicity studies. The toxicity of Kasisa Bhasma and Punarnava mandur have been carried out and reported. The Chronic Toxicity of Kasisa Bhasma is going on.