About her :
Dr. Sonali Bandyop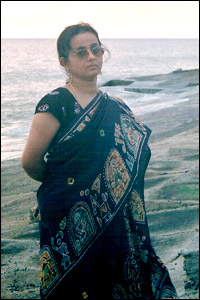 adhyay received appreciation in the cultural field like Dance, Songs and further she is an academic. She took her first lesson on Katthak Dance from her guru Anil Baran. She learnt Bharatnatyam Dance from Guru Pinaki Roy and also learnt Manipuri Dance from Guru Aditya Sena Rajkumar from her childhood.
She born in a family of high culture and Sri Amiya Kumar Bandyopadhyay, her father is her Sangeet Guru. Under the affectionate and able guidance of her father she learnt classical song and Rabindra Sangeet apart from regular school lesions. She obtained MA in Folk Song from Rabindra Bharati University and obtained Ph.D degree also from the same University under the guidance and supervision of Dr. Gouri Bhattacharyya. After Ph.D she joined RBU as Guest Lecturer. She visited almost Europe as a dance and song performer in the year 2003 conducted by ICCR. A special interview was also broadcasted in the Belgium Radio during her visit.
Achievement:
Guest Lecturer in Vocal Music in Rabindra Bharati University from 1999-2004.
Workshop attended on Cchow Dance under Padmasree Gambhir Sing Munda, organized by Dr. Mahua Mukherjee in 1994.
Performed Dance & Song in Abroad: France, Belgium, Netherland, Germany, Russia, Armenia & Georgia in 2003.
She also did Diploma in Tagore Literature from Rabindra Bharati University in 1996.
Director - Belur Sinjini, Howrah
Director & Coordinator – Beliaghata Bani Bina Music & Art Centre, Kolkata
She specialized in different classical dances – Folk Dance, Creative Dance and also composition of Tagore Songs.
She is also directed of 'Mohor' (Musical Troup: Songsonly)
Principal of 'Amiya Sangeet-O-Nritya kala Kendra' (her own institutertion at Belur, Howrah).
Now, pursuing her dream, performing with her own Troup Belur Sinjini and her unique items to name a few are:

Nakshi Kanthar Math (Based on Jasimuddin's love poem Nakshi Kanthar Math) – highly praised on media.
Shakuntala (Based on Tagore's Songs).
Dui Bigha Jami (Rabindranath Tagore's poem) - has been transformed into dance drama. This dance drama was also highly praised in media.
Ekti Gacher Upakatha (The theme is 'save environment') – this item was also get strong media attention.
Africa (Tagore's poem transformed into dance)
Nataray Riturangashala (Based on Tagore's Songs)
Sishutortha (Tagore's Dance Drama)
They perform regularly all over West Bengal, Delhi, Ahmadabad and various states throughout the year. Their performances are Fusion, Creative, Western also.
ABOUT US | SERVICES | FEEDBACK | CONTACT US | E-MAIL
Copyright (c) calcuttayellowpages.com (P) Ltd