» Firm Activities:
Our unit is registered with SSI, NSIC and we are absolutely engaged in the field of development, manufacturing and supply of various type of mechanical (machined) spares and components (both ferrous and non- ferrous) and fabrication job for exclusively govt. organisations including ordnance factories (ministry of defense) and department of atomic energy as an registered manufacturer / supplier for so many years. We have already proved our competency due to our vast experience expertise & technical proficiency.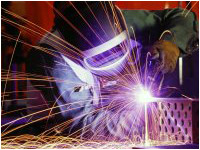 • Product Development Strategy:-
In order to develop any special type of precision ( Mechanical Engineering ) item / job at our unit , we start our in - house activity for designing and stage wise development process planning finally suitable stage , systematic review and verifications of design and development activities are performed in accordance with the planned arrangement to ensure that the resulting product is capable of meeting the requirement for the specified applications as well as to identify any problem and propose necessary action
• Manufacturing Process Strategy:-
In order to manufacture the stores / items as per the drawings / scope of work / specification / instructions as mentioned by the purchaser ,the manufacturing process lay out /flow chart followed by our quality control system planning strategy are prepared , ensuring all acceptance criteria are included to maintain the consistent quality of required finished components.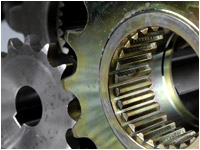 » Standarisation:-
We always maintain following specifications
1) Indian Standard (IS)
2 ) American Standard (AISI)
3) Russian Standard (GOST)
4) British Standard (BS)
5) German Standard (DIN)

• Technical Capacity/ Facilities (In Brief):-
To be specific, we have the full control to undertake any type of high precision job as per exact drawing and specifications due to proper implementation of quality related brief activities such as.

• Cost Evaluation Planning:-
Designing
Development of Sample
Critical Evaluation of Quality.
Manufacturing Process Lay-Out Planning For Bulk Production
Quality Control Activities & Stage Inspection System Planning
Service.

• Quality Control:-
Our quality control system is tuned to ensure that consistent qualities of products are manufactured by us to satisfy the need of our valued customers. According to that we implement our quality control system planning strategy as exactly required for development of samples as well as bulk production of finished component.
• In House Testing / Checking Facilities:-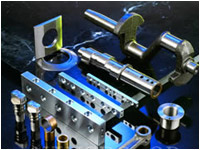 The stage wise test / inspection are carried out by way of our high accuracy various type of test and measuring instruments supported by our highly skilled technical personnel after that the stores are offered to the authorised inspector of the purchase for inspection.
• Testing / Checking Done Nabl / Govt. Approved Test Lab: -
We submit our test piece / representative sample (with proper identification mark) of the material to the exclusively govt. Approved material test analysis lab for physical, chemical, ultrasonic test and also other type of tests of raw material to ensure the exact required specification of material for better productivity.
• Range of Product: -
Various type of precision mechanical (machined) spares and components (both ferrous & non ferrous)\and fabrication, milling, grinding and casting job as per exact drawing and specifications / sample of our valued customers. We have enclosed herewith our manufacturing / supplying range of product (in brief)