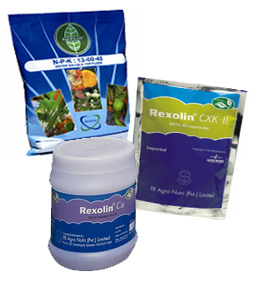 100% water soluble fertilizers:
Since the very first day of its journey, "BANABETHI" has been supplying with 100% water soluble fertilizers for the best yield.
Products marketed by "BANABETHI":
N.P.K. AGRI PLUS: [Imported from HAIFA Chemicals, HAIFA, ISRAIL]
M.A.P. (Mono Ammonium Phosphate) – 12:61:00
N.P.K. – 20:20:20+
N.P.K. – 19:19:19+
N.P.K. – 13:40:13
N.P.K. – (Potassium Nitrate) KNo3 - 13:00:45
M.K.P. – (Mono Potassium Phosphate) – 00:52:34
MgNo3 (Magnesium Nitrate)
Garden Grow (An optimum mixture of NPK and other micro-nutrients)
PRAN:
SOL-K (Sulphate of Potash) K2So4 – 00:00:50 [Imported from TESSENDERLO CHEMI NV/SA, Brussels, Belgium].
CANSOL (Calcium Nitrate) CaNo3 – 15.5%:00:00:18.8% [Imported from YARA INTERNATIONAL, NORWAY].
Micro Nutrient AKZONOBEL: [Imported from "AKZONOBEL", NETHERLANDS]
REXOLIN – CXK (Compound Micronutrient Mixture)
REXOLIN – Ca+ (Chilated EDTA Calcium)
REXOLIN – Zn+ (Chilated EDTA Zinc)
REXOLIN – Fe+ (Chilated EDTA Iron)
REXOLIN – Cu+ (Chilated EDTA Copper)
REXOLIN – Mn+ (Chilated EDTA Manganese)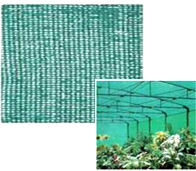 Agro-Shade Net and Aluminet:
Agro-shade net and Aluminet marketed by "BANABETHI" for horticulture, help in controlling the growing condition of plants, protecting plants from the damages caused by excessive sun-rays, hail, birds, insects etc. Shade-nets and Aluminets are available in different shade factors of 33%, 50%, 75%, 90% and others. They are also available in different colors like white, black and green. These nets are used in nurseries, roof gardens, green-houses, poly-houses etc.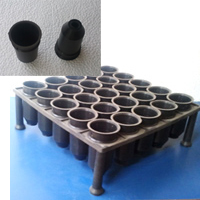 Seedling pots or nursery pots:
"BANABETHI" supplies heavy duty plastic injection molded nursery growing pots. These are strong and durable enough to stand up most challenging environment. These pots are designed for maximum plant growth and are available in different sizes of 125 ml, 250 ml and 350 ml.
Pot Tray:
The pot tray marketed by "BANABETHI" is a propagation tray for seeds, holding net pots. It's used for the growth of seedlings and hardening of tissue culture plants.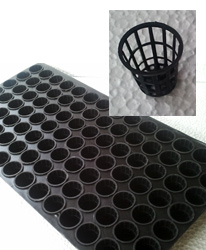 Net pots:
The net pots marketed by "BANABETHI" are designed for the growth of seedlings and hardening of tissue culture plants, which are later transplanted in soil along with these pots.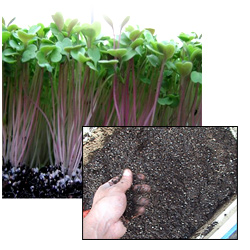 Soil less Media:
Many container plants whether in nursery, green-house, and poly house or at homes are grown in soil less media, i.e. instead of soil other materials are used to grow plants.
Soil less culture is also called hydroponics.
"BANABETHI" supplies different types of soil less media such as vermiculate, perlite, cocopeat, etc.

Why do people prefer soil-less media?
Free of contamination from diseases and pests.
Relatively inexpensive.
Environment friendly.
Some materials are even believed to suppress disease.
Landscaping:
Landscaping refers to any activity that helps in modifying various visible features of an area, including the following –
Living elements – flora and fauna.
Natural elements – landforms or water bodies.
Human elements – any structure installed by human beings.
Abstract elements – weather etc.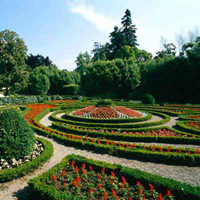 "BANABETHI" has a team of skilled landscapers which masters in blending the natural elements with the human elements, keeping in mind both the science and art involved in landscaping. "BANABETHI" manages any landscaping project from vision to creation, from beginning to end, keeping in mind the ideas, thoughts and suggestions of its clients.
Landscape Designing:
Various factors of landscape designing like climate, topography, drainage, irrigation, soil condition, plants and other elements present in the site, lighting, recreational amenities, client preferences etc. are given importance to a great extent by the skilled designers of "BANABETHI" to create an eye-catching, well-functioning and long-lasting site.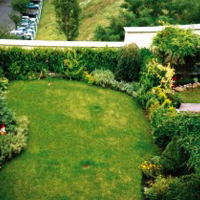 Roof Gardening:
Complete beautification of roof gardens including designing, planting and growing of various plants, lighting etc. are done by "BANABETHI" with its teams of efficient landscape designers and professional gardeners.
Green House and Poly House: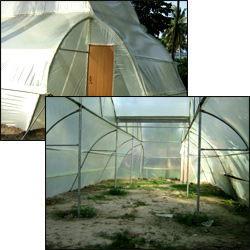 "BANABETHI" masters in the construction of complete Green House and Poly House. Green House are frames covered with 200 micron UV stabilized poly film in which crops can be grown under controlled or partially controlled environment.
Utility:
Better space utilization.
Help growing plants in extreme climatic condition and in high rainfall areas.
Help in intensive cultivation of high-value crops like off-season vegetables, flowers etc.
Raising of high value seeds.
Help in plant-propagation.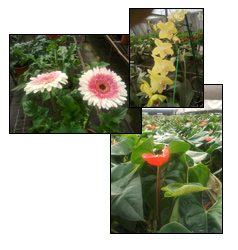 Complete Cut-Flower Project on turn-key basis:
"BANABETHI" undertakes cut flower projects on turnkey basis, starting from site – selection, selection of cut flower varieties, studying project feasibility, designing, installation of green-house etc.
"BANABETHI" produces a wide range of cut-flower of Rose, Gerbera, Bird of Paradise, Carnation, Statis etc. keeping the following characteristics in mind:
Productivity
Usability.
Long vase-life.
Beauty.
Resistance to diseases.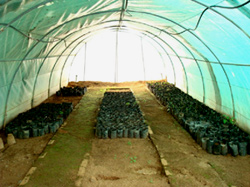 200 Micron UV stabilized poly film:
"BANABETHI" supplies 200 Micron UV stabilized poly film for Green-house and poly house. These films come with UV, IR and thermal stability and very high mechanical strengths. They also have anti-condensation, anti-drip, anti-fogging and anti-oxidant properties. They control moisture and vapour inside the green-house.
These films are of two types –
Mono-Layer: All the UV stabilizers and additives are combined into a single-layer along with the base-polymer.
Multi-Layer: In Multi-Layer films different types of functional additives are incorporated for different layers –
Outer Layer – Antistatic agent.
Middle Layer – Light diffusing additives.
Inner Layer – Anti-fogging additives.
Multi Layer films may be 3 layered or 5 layered.
In case of any unwanted defect in any one layer it can be easily masked by the remaining-layers.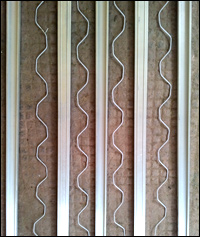 Aluminum Profile and Spring Steel Clips :

Aluminium Profile and Spring Steel Clips marketed by "BANABETHI" are used for fixing green-house film or shade-net on pipe structures.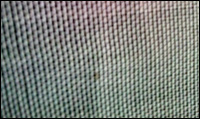 Insect Net :
These are UV stabilized HDPE nets to keep away insects and birds from Green-house or Poly-house.
Plastic-Mulching Sheet :
Plastic Mulching Sheet marketed by "BANABETHI" is a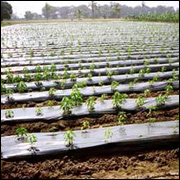 n agricultural no-dig technique which is used either in establishing a new-garden or to enrich existing plants. Covering of soil around plants with these special plastic sheets is called mulching. The various advantages of this technique are –
Retains soil moisture.
Soil temperature in planting bed is raised resulting in early harvest.
Prevents weed-growth.
Helps in pest-control.
Keeps the soil under the mulch loose and well-aerated.
Saves on fertilizer and pesticide costs.
Maintain soil structure.
Used properly, it can generate healthy, productive and low maintenance crops.