About Us: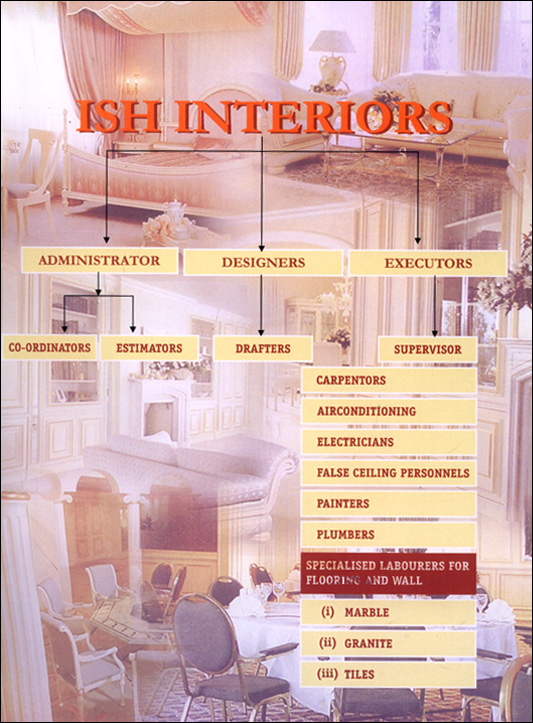 ISH Interiors a pioneer in the world of Interior Designing, is a premier Studio from The City of Joy, Kolkata. We incorporate the principles of INNOVATION, SOPHISTICATION and HALLMARK in our attempt to create a new world of interior decoration for your offices, residences / bungalows, clubs, restaurants, shops, showrooms, retail spaces which is beyond ordinary imagination. Setup in 1994, we walked our first steps as Planners and Designers. Gradually with a team of dedicated individuals, emphasizing upon customer needs, we have built an array of excellent work imbibing the principles of client specific designing and prudent utilization of available space.

The projects emanate from various spheres and of different magnitude. Our team comprises ofarchitects, planners, designers, supervisors, skilled carpenters, false ceiling personnel's, electricians and painters. Our aim is to deliver customized solutions as per our client's requirement. We not only make prudent use of available space, but also add many new dimensions, making your area look larger than actual. The way we style the whole decor is par excellence and is envy for your neighbors and a symbol for your pride. We dare people to dream and materialize them to dream for bigger dreams. We strive to give our customers a great value for their money.

Our approach is quite simple as regards to our working strategy. We strive to create a world of stylish decor. We are full service oriented concern with customer satisfaction as our primary objective. We don't claim ourselves as Leonardo Da Vinci but we indeed are capable of creating several Monalisa's.