About Her:
Molly Roy is the only dancer who is capable to dance Bharat Natyam, Mohini Natyam and Kathak in same perfection. Molly Roy is exceptionally gifted exponent of Kathak-Dance with a subtle sense for "Laya" and "Tala". Beside her natural talents she is endowed with a highly attracted stage performance. She represents the soul of Kathak for the audience in a deep, satisfying and enjoyable way. Her special excellence is her fine expressions (Abhinaya) of Kathak. She owns a highly attractive personality and fluent techniques.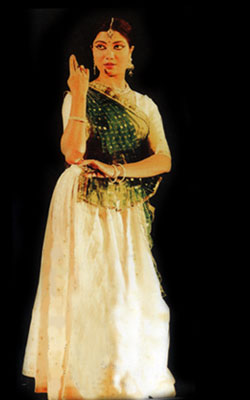 Kathak dancer Molly Roy began her journey under the guidance of the renowned KATHAK-Performer Smt. Kanan Sen. After her graduation in "Lucknow Gharana" she continued her studies under the training of Pandit Omprakash Maharah. During this period she won 2 gold medals in both of "Nritya Pravakar" and "Nritya Bhaskar", conferred by Pryag Sangeet Samity, Allahabad and Pracheen Kala Kendra, Chandigarth. She also has received a "First class master degree" of the Rabindra Bharati University. She is also well known through many performances in television broadcast. She participated on several festivals abroad which have been organised by ICCR and ITDC. 1990 she take part on the famous Dover Lane Music Conference, 1993 on the Kathak Dance Festival. Due to her remarkable career in theory and performance she received as a honored distinction a scholarship at the Kathak Kendra Delhi which was under the guidance of kathak legend Pandit Birju Maharaj. After her 2 years membership at the Kathak Kendra Delhi and the intensive training through Pandit Birju Maharaj she finished the study with the degree as one of the best and auspicious students from Pandit Guru Birju Maharaj. During her staying in Delhi she gave performances in the whole of India, in almost all of the famous and outstanding festivals. In her performances she was accompanied by the most famous artists on tabla and other instruments.

Molly Roy performed in all of the ballets under the special direction of Pandit Guru Birju Maharaj which have been produced at the Kathak Kendra Delhi. As a special honor she was invited by the king of Bhutan and Japan to give a performance during particular occasions with the presence of the royal family. Further she had solo performances on tours through Britain, Germany, Portugal, Kuwait, Italy and Dubai, organised by ITDC. Molly Roy is also a well experienced choreographer. She is a competent teacher. For many years she teaches students in India and has also her own school with name Meera Chhandam.

ABOUT US | SERVICES | FEEDBACK | CONTACT US | E-MAIL
Copyright (c) calcuttayellowpages.com (P) Ltd