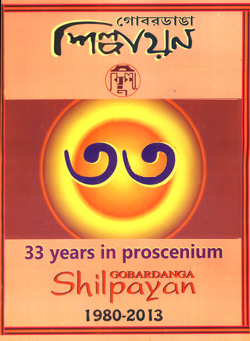 It was on July 10, 1980 - Sum 33 years ago Gobardanga Shilpayan came in to existence in North 24 Parganas, West Bengal. A long span of relentless theatrical cultivation Gobardanga Shilpayan had a long walk of success and failure juxtapposed with a series of innovative excitement. Apart from producing theatre Gobardanga Shilpayan has been organizing different cultural function viz, arranging Seminars, Felicitation Ceremonies, Exhibition of Photos of different productions of different theatre organizations, Theatre Workshop, Gobardanga Natya Mela and also speeches on theatre.
Gobardanga Shilpayan has been on the talk of theatre lovers of almost all the provinces of India by some of its stage winning productions like
'Raktakarabi', 'Raja Oedepaus', 'Madhab Malanchi Kanya', 'Maladak', 'Sampriti Bilas', 'Swapner Feriwala', 'Taraprasanner Kirti', 'Colonel -Ke Keu Chithi Lekhe Na', ' Shylock Upakhyan','Tamas', 'Antarjali Yatra', 'Satya Shylock', 'Ankur', 'Khowab', 'Brindabner Che'
and
'Bhoot Puran'
etc. directed by Ashis Chattopadhyay - the helmsman of the group.
Gobardanga Shilpayan and Swapnasandhani joint venture for producing a theatre production
'Prachya'
, under the direction of Kaushik Sen in the year 2002.
Persently excitement in the group is on the wings following the attainment of
HUTCH
sponsorship in there
Odeon 2005
Theatre festival for the groups latest production
'Antarjali Yatra'
with the script and direction by Sri Ashis Chattopadhyay.
We have decided to make this dream in reality our drama troupe Gobardanga Shilpayan, Inaugurate a theatre school (
Gobardanga Shilpayan Natya Vidyalaya
) on 10th. day of July 2006.
Gobardanga Shilpayan never thinks that all these they have been able to do of their own. Support, assistance and above all inspiration from all the corners and particularly by the optimistic and Co-operative attitude of Government and prominent Private Organizations have always been playing a major role behind it. However Gobardanga Shilpayan will never deviate from their resolve to go on with an all out strive to ensure healthy progressive and affirmative milieu of positive culture in the country through their cumulative involvement in theatre and theatrical works.