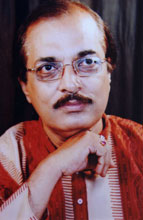 The institute of learning music
Ameer Khan Sangeet Samsad
was established in
1979
in Burdwan, It is affiliated to Pracheen Kala Kendra, CHANDIGARH. Since then hundreds of students have been passed out from here with Sangeet Visharad and
Sangeet Bhaskar
Degree.

Subjects taught
: Vocal Classical, Rabindra Sangeet , Najrul Geeti and Tabla. Talim in Tabla with the songs are also given here.

Admission
: Admission are made through out the year after a preliminery vocal taste of the candidate. Talented and gifted voices are given preference and concession in Fees.

Programmes
: Annual Programmes are held in the month of December- January.Students are also given chances to participate in the invited programmes of other organisations.

Contact Address :
C/o Sri Somnath Mukhopadhyay, Mithapukur, Bhanga Maszid Para, Rajbati, Burdwan, West Bengal, India,Tel. No. : 0342-2532606, Cell 9474375762/9332113466
Branch :Tikarhat, Bhubaneswar Road, Burdwan.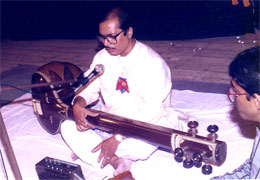 Sri Somnath Mukhopadhyay, Principal and Organiser :
A well known Classical Singer as well as an excellent trainer in music (North Indian Classical) of the country..
He received training in Shastriya Sangeet from Late Dr. Kumud Ranjan Banerjee, Ex-Principal of Bengal Music College, Kolkata; Pandit Late Sukhendu Goswami, Ex-Prof. of Rabindra Bharati University; Late Bibhuti Chowudhury (Deciple of Ustad Ameer Khan) and lastly from Pandit Alok Chattopadhyay, Ex-HOD of Music. Rabindra Bharati University.
Other than Shastriya Sangeet he also gives specialist training in Rabindra Sangeet, Najrul Geeti and Bhajan. He is engaged in training vocal music about 35 years.

His performances
Music Albums
1) Classic for Pleasure (Music Jalsa, Kolkata) 2) Night Melodies Part I & II (Own Production) 3) Raganjali (MAA series., Kolkata). These include Ragas in Jog, Rageswari, Megh, DurbariKanada, Jogkauns, Shibranjani and Kausikdhwani. Drutkheyals in Nat Bhairab, Rageswari, Shibranjani, Kaushikdhwani, Yaman, Brindabani Sarang, Bagesree, Sree, Gurjari Todi, Bairagi, Ramkeli and Ahir Bhairab have been uploaded in
www.cooltoad.com
.
He has performed in many Music Concerts through out the country.

Achievements :
He was awarded a
Gold Medal
by Pracheen Kala Kendra, Chandigarh for securing First class First position In Sangeet Bhaskar Examination (Vocal Classical).
Special Honour was given to him by
Bharat Sevashram Sangha
in the year 2000 and
Burdwan Book Fair
in 2008.
He is also registered by PRACHEEN KALA KENDRA as an Examiner up to the level of
SANGEET BHASKAR
(M.MUS) since 1980.