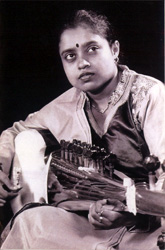 Somabanti Basu is amongst those few female Sarod players of this generation seeking new directions through the misty labyrinth of this instrument of Persian origin.
Somabanti grew up in a family dedicated to music. Encouraged by her elders, she picked up the Sarod at a very tender age under the tutelage of Sri Robi Laha, a disciple of Late Pandit Radhika Mohan Maitra. She was performing regularly in various local concerts where her renditions as a promising child artist drew the attention of music experts. Later she went through intensive training in the truest traditions of 'Guru-Shishya Parampara' under renowned maestro Ustad Ashis Khan and Smt. Amina Parera (d/o Ustad Ali Akbar Khan) of the Maihar Gharana.
A Science graduate from Calcutta University she completed her post graduation in instrumental music with distinction from Rabindra Bharati University, Calcutta.
As a young artist, she participated in several prestigious music competitions and was adjudged the best performer in Dover Lane, Ravi Kichlu talent search, All India Radio and many others.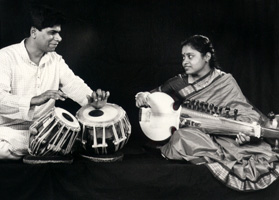 She was awarded the 'National Scholarship' by the Department of Human Resource Development, Govt. of India.
Somabanti has delighted the connoisseurs at Music Circles in India and abroad. She has extensively travelled Europian countries and performed at major festivals and cultural centres in Germany, France, Austria, Dennmark, Sweden, Switzerland etc. The accuracy and intensity of her performance has stunned the audience.
Somabanti bears the torch of the rich Maihar Gharana which was founded by late Ustad Baba Allauddin Khan Sahib. The Maihar Gharana has produced great maestros like Ustad Ali Akbar Khan, Pandit Ravi Shankar, Smt. Annapurna Devi, Pandit V. G. Jog, Pandit Nikhil Banerjee to name a few.
While being deeply embedded in her rich tradition, Somabanti absorbs other techniques and styles into her music. Her style cuts across borders, a post modern 'global' attitude which earmarks her generation.
She has been identified by eminent music critics as an artist of great potential. A perfectionist to the core she engages herself in relentless Sadhana as she continues to interpret the contemporary with the language of the Timeless.