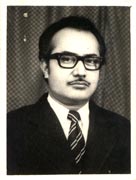 Birth: Born on 16th November in 1942 at Khonshahat village situated in between P.S. Bhushana. This is under the Madaripur Subdivision, Dist – Faridpur of earlier East Bengal.
Education: He has done M.A. in Modern History from Calcutta University. He has taken Post Graduate Diploma in Librarianship and also done PhD in research of Folk songs & culture.
Profession: He was the librarian in All India Radio. After that he was designated as a transmission executive of All India Radio and Television and also took responsibility of Programme executive and lastly he was retired as Assistant director in of All India Radio,Govt of India
Voluntary Service: he is the member of NIKHIL BHARAT BANGA SAHITYA SANMELAN. Dr chattopadhyay is now the Publication secratary,the treasurer of the state comittee and the Editor of Branch organ "Triparna".
Bangiyo Sahityo Parishad : Ex assistant Secratary and the treasurer.
Bangiyo Granthar Parishad : Ex join Secretery, Editor of the magazine, General Secretery and at present, Vice-President
Songs Makers Association: Working President.
Ananda Abakash : General Secretary and editor of the magazine.
Swapna Niye (Home of the poor Children): Treasurer
Rupashree Palli Sanmelan:Founder General Secretary, and at present Vice President.
Published Book: Folksongs of North Bengal: Bhaoaia O Chatka (Approved as Referance book in Post Graduate Syllabus of Calcutta University).
All India Radio & Television: The Guide Book of Audition
Folk journalism(Lok Sangadikata:Loksangeet)
Amar Sahid Kathamala (1st & 2nd part)
Baronio Bangali (Included in the syllabus approved by the aged education)
Pratibadi Loksangeet (Folk song of protest)
Compiled Book : Subject Index to Calcutta Review.
Edited Books :
"Ponji" – the periodical Magazine of 20th Century (1 3rd part).
The Collected Index Of "Probasi"
Pramilchandra Basu. (Dedicated Librarian) (Instrumental)
Translation : Approved translator of National Book Trust.Already translated 12 books.
Lyricist: Approved Lyricist, All India Radio, Television, CD Cassettes, Lysisist of many songs sung by different singers apart from "E Maser Gan" "Sharodia Pujar Gan" of All India Radio.
Editor :
'Triparno' (Nikhil Bharat Bango Sahityo Sanmelan): [ Honour of the best branch magazine.]
'Sandhyarag' (The organ of the most honourable working Committee of All India Radio & Television)
'Granthagar' (the monthly bilingual organ of Bengal Library Assocationl)
'Paribesh' (The monthly magazine of Literature & Social Science)
"Swaranika" of Nikhil Bharat Bangya Sahityo Sanmelan
'Bahirbonge Bengali' (1st and 2nd volume)
Published Writing –
"Sammelan Sahityo Sangraha" : Probondho" of Nikhil Bharat Bango Sahityo Sammelan (1st & 2nd volume)
Nibondho 'Agomoni' (Pages - 258), 2nd Part (Pages - 319), Mahabidroho O Lokgan Compiled by.
Apart from it 'Desh', 'Amrito', 'Paribartan', 'Nabokallol', 'Sammelani', 'Lokshruti', 'Bango Sammelani', 'Triparno', 'Padma - Ganga'. Published more than 200 essays, stories, poems, features, trend stories, plays etc. in different magazines till date.
Invited Speaker :
Nikhil Bharat Bango Sahityo Sammelan : 81st & 82nd Annual Conference.
Annual Conference of West Bengal State Society : Khatra, Maldaha, Jalpaiguri, Bolpure, Ranigunj, Kanthi, Digha, Rupnarayanpur. Organised by Burdwan Branch : Bhasha Sahid Dibas (2007, 2008). Annual Conference of Krishnagar Branch : 2006
Annual Conference of Calcutta Branch : 2004, 2005, 2006, 2007, 2008, 2009
Apart from that, poet conference, Programme Bhasha sahid Dibas, New Year, Rabindra Janmotsab etc.
Bangio Granthagar Sammelan : Jalpaiguri, Howrah, Nadia, Krishnanagar etc.
Saratchandra Smarak Samiti : Debanandapur, 2005.
Director : 'Srobori', Prantyahiki, in All India Radio of Calcutta Branch Apart, in F,M also and in the programme 'Aaj Rate'.
Nikhil Bharat Bango Sahityo Sanmelan : The meeting on Folk literature and culture in 82nd Annual Conference.
The programme on Folksong in CTVN Bengali Television Many Plays, feature and the programme on …….. and discussion on literature circulated in All India Radio.
Others :
Ex. Professor: Mahatma Gandhi University (Distant Education Programme)
Ex. Professor: Sangeet Accademy of West Bengal.
Ex. Professor and present examiner: Bangio Granthagar Parishad.
Examiner: Artist Section of All India Radio.
Examiner: PhD thesis of Kalyani University.