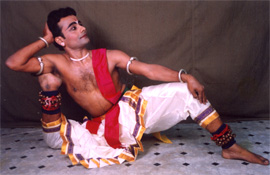 It is the immeasurable reverence and favoritism towards classical dance that has provided Ramkrishna Chattopadhayay with a very special aptitude to become a classical dancer. Very specially the showering musical beauty and pacing manliness of Bharatnatyam invites his special attraction that compels him to feet the necessity of undergoing a specialized as well as academic training on the art of Bharatnatyam. Despite pecuniary stringency Mr. Chattopadhayay initiated his training on Bharatnatyam under Mr. T. S. Basunni, professor, Viswabharati (Santiniketan), in February, 1985. later on, he got himself admitted in the Spl. Hons. Course on Bharatnatyam in Rabindrabharati University (Jorasanko) and was awarded the post-graduation degree on 2002. During this period, he underwent training under Mr. Abhay Paul and later received from Guru Khagendranath Barman a special coaching as well as instruction with a view to enriching himself on the style of Kalakshetra. Used to visit Guru Mrs. Gangathampi (Lecturer in Bharatha Natyam, Kalakshetra Foundation, Chennai) every year for special training.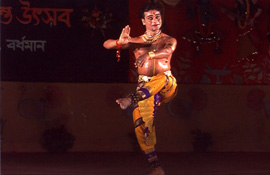 The sincere training of the reverend Guruji and the devotion as well as the perseverance of Ramkrishna have been exposed through the refinement and sophistication his style to a great extent and by the by the peerless beauty Kalakshetra seasoned and sobered his art and exposure. Presently Ramkrishna is a pioneering devotee as an artist in "Natanam Kalakshetra" and catering joy and art as well to people in a number of states of India including West Bengal taking recourse to his excelling performance.
A special trait of Ramkrishna's outstanding performance is that right from childhood he has received and still been receiving a training on Indian Yoga under his elder brother, Mr. Jayanta Bishnu Chattopadhayay. Presently he is engaged in a research-work on Indian Yoga and Vedic and Tantra-Mudra.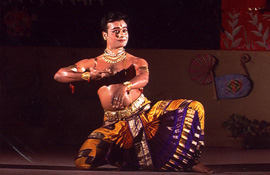 Under the direction and catering of West Bengal State Music Academy in collaboration with Rabindrabharati University, Ramkrishna has very commendably performed in a Tagore's dance-drama "Chandalika" in a number of states viz., Delhi, Guwahati, Vijaywada (Andhra), Trichur and Kalamandalam University (Kerala), Mumbai (Banga Sanskriti Festival), Santiniketan (West Bengal) and others.
These apart, Mr. Chattopadhayay was also the recipient of "Singer-Mani Award" for his peerless performance in Bharatnatyam in the KAL KE KALAKAR SANGEET SAMMELON organized by Sur Singer Samsad, Mumbai on 28th may 2006.
Representating "South Gurukul Society" of Mrs. Sutapa Talukder, a distinctive artist on Odissi Dance, Ramkrishna has exposed his mastery and excellence also in the style of Odissi. In a umber of shows, of the same notable ones being Sutanooti Festival (Kolkata), Flavour of Kolkata (Mumbai), Kolkata Doordarshan, the thanksgiving to the Governor of West Bengal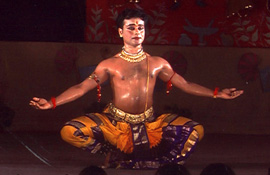 Mr. Biren J. Shah (Governor's House , Kolkata) his amazing mastery over the Odissi Dance invited the attention of all the attended it. He was the coach on Indian Yoga and Tantra-Mudra in Tantric Dimention of Odissi Dance, a workshop on Odissi Dance, held under the direction of Mrs. Talukder and Under the Supervision of E. Z. C. C. (Eastern Zonal Cultural Centre) from 1st Dec to 15th Dec 2003.
Every year Ramkrishna runs a workshop on Bharatnatyam in the town of Dibrugarh (Assam). What is more, in two other age-old institutions like "Nivedita Sangeet Mahavidyalaya" (Galsee) and "Sur-O-Vani" (Chittaranjan) - he is working as a trainer under the will of his Guruji, Mr. Khagendranath Barman and now he has established an organisation "BHARATA KALA MANJARI" at Gangpur, Burdwan in which the chief advisor is Guru Khagendra Nath Burman. There are four candidates received CCRT Junior National Scholarship in Dance (Bharat Natyam) under guidance of Ramkrishna Chattopadhyay and they are continuing their training in Bharata Kala Manjori, Burdwan.