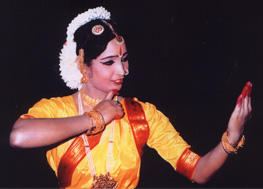 About SARMISTHA GHOSH ........
The Inner experience of the soul find its highest expression in classical dance.
Sarmistha Ghosh is an upcoming young talented dancer on Bharatnatyam in the arena of Indian Classical Dance. Being inherited a cultural tradition from his family she become proficient in Bharatnatyam under guru padmasree Smt. Chitra Biswesaran, Chennai for the last 10 years in the Chidambaram school of performing Arts, Chennai. She graduated from Rabindra Bharati Universit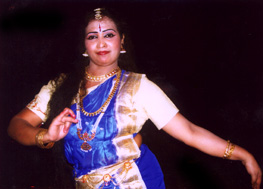 y on the said subject with distinction.
Sarmistha Ghosh has exhibited a number of performances in Bharatnatyam in various part of the country. She has been honoured by Rajya Sangeet Academy in the New Talent Search Competition. She has choreographed a number of productions based on Indian mythology.
She has produced three consecutive teleskit on Bharatnatyam on the awareness campaign of National Leprosy Elimination Programme, National Cancer Control Progamme, National Programme for Control of Blindness.
MAJOR PERFORMANCES DONE
Solo Dance Recital on Bharatnatyam at Rabindrasadan,
Gyan Mancha, Madhusudan Mancha.
Sool Bharatnatyam dance recital at International Leprosy Congress
Solo Dance recital at Rajya Sangeet Academy at Rabindrasadan,
Solo Dance recital at New Talent Search Programme organized by Rajya Sangeet Academy Govt, of West Bengal.
Solo Dance recital on Bharatnatyam at Bisnupur National Festival.
Solo Dance recital on Bharatnatyam at Haldia Festival.
Solo Dance recital on Bharatnatyam organized by Ezcc, Govt, of India.
Solo Dance recital on Bharatnatyam at Konarak Festival.
Solo Dance Festival at Beach Festival, Puri
Solo Dance recital at the 8th International Festival of Non Vrebal Arts (IFNA) held in India (at Suri).
MAJOR GROUP PERFORMANCE
Group Performance at Madhusudan Mancha organized by Rajya Sangeet Academy. Govt, of West Bengal
ABOUT US | SERVICES | FEEDBACK | CONTACT US | E-MAIL
Copyright (c) calcuttayellowpages.com (P) Ltd