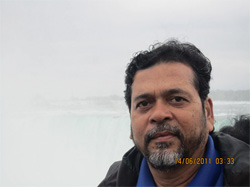 Zahir Anwar (1955), educated in Kolkata, is an eminent playwright and critic in Urdu. Mr. Anwar has published 4 volumes of plays, 2 volumes of travelogues and 2 volumes of critical essays on the art and technique of theatre. He has adapted plays from other languages and has translated a monograph of Bibhutibhusan Bandyopadhyay, published by Sahitya Akademi, New Delhi. He has also a corpus of literary essays to his credit and has received several awards including the prestigious Hum Sab Ghalib Award (1999) for drama from The Ghalib Institute, New Delhi and Shikha Ratan (2011) from the Government of West Bengal. He has the distinguished reputation of mentoring a whole generation of actors, directors and playwrights in Kolkata's Urdu theatre and stage.
He presently holds the post of Headmaster at The Presidency Muslim High School, Kolkata and he has been grooming the children of his community and the down-trodden for the last 38 years.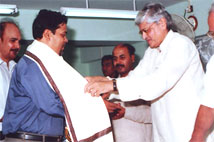 Receiving Award
Plays:
1) Angaaron Ka Shahr (1982)
2) Saleeb (1985)
3) Naye Mausam Ka Pahla Din (1993)
4) Black Sunday (2007)
Theatre Criticism:
1) Drama, Art and Technique. (1995)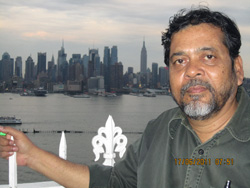 2) Manzar pas manzar (2011)
Collected Translations / Adaptations:
1) Francisi Drame (1989)
2) Bibhuti Bhusan Bandhyopadhay, published by Sahitya Akademi (1992)
3) Stories and plays from original Bengali etc
Music: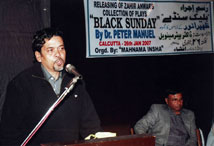 at Black Sunday realease
Travelogues:
Ek Arz-e-Tamanna (travelogue of Pakistan, 1999)
Chirag-e-Rahguzar (travelogue of London, 2003)
Workshops Conducted:
Sharjeel Arts, Kolkata
Spark Theatre Academy, Kolkata
Islamia High School, Kolkata
Aligarh Muslim University, Aligarh
Bhoomika Theatre Group, Mumbai
C.G.W.E.C Pune
Students of Calcutta University / Maulana Azad College, Kolkata
Seminars Attended :
Jammu University (1992)
Delhi University (2000)
Sahitya Akademi, Delhi (2000)
Mumbai University
Urdu Conference, London (2000)
Urdu Conference, London (2001)
Urdu Academy, New Delhi
Urdu Academy, Kolkata
Darjeeling Kala Sadan
Anjuman Jamhoriat Pasand Mussanniffin's Conference, Kolkata
Manas, National Library, Kolkata
Sahitya Akademi, Kolkata
Family of the Heart, Canada (2011)
Participated in Actor's meet, RangManch, Canada (2011)
Participated in Literary meet, Tulsa, Oklahoma, U.S.A
Tagore seminar, at Calcutta University (2012)
Tagore Seminar, at National library, Kolkata (2012)
Tagore Seminar at Jamia Millia Islamia, New Delhi (2013)
Seminar on Prof. Waris Alvi organized by Naya Waraq Foundation, Mumbai (Dec, 2013)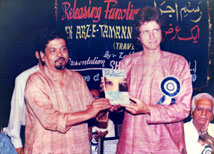 Zahir with Peter Manual - Realease of Ek Arzetamana
Major Plays Staged and Published :
Intezaar Aur Abhi (1978/1979)
Angaaron ka shahr (1980/1981)
Saher Hone Tak (1983)
Saleeb (1984)
Qaidi (1984)
Naye mausam Ka Pahla Din (1985)
Salim Sherwani ki Shaadi (1986)
Naqqara (1987)
Ek Anarchist Ki ittifaqia maut (1988)
Nelaami ek Sultan ki (1990)
Black Sunday (1992)
Shahzadi Turandot (1993)
Chahaoonga Mai Tujhe (1994)
Samai ki Dhara (1994)
Feel badan (2000)
Zulmat ko zia kiya likhna (2002)
Teen ajnabi (2002)
Insaaf (2004)
Rayeen Basera (2007)
Plays With More Than 150 Performances:
Black Sunday (all over India)
Salim Sherwani Ki Shaadi (Kolkata, Mumbai, Delhi, Luchnow)
Television Play Broadcasted:
Khawaboon ka Savera (Script, Direction, Acting)
Acting Roles in Television Serials:
Ganadevta
Hello Police Station
Important Critical Papers (Literature / Drama) :
Ghazala Zahir, Sophie Manuel & Zahir Anwar.

"The Afro-American Writers and Their Literary Concepts"
"The Voyage of Self in Iqbal"
"Fiction in Bengal, Trend & Technique"
"Stray Thoughts on the Art of Teaching"
"Audio Plays"
"Immigrant Literature in Canada and Their Identity"
"Agha Hashr Kashmiri" (English)
"Native-Alien Encounter and Urdu Theatre"
"Essays on the Art and Craft of Ghalib, Faruqi, Akhter-ul-Aman, Khalid
Sohail, Alqama Shibli, Qaiser Shameem, Siddique Alam, S. Nabi etc."
Awards:
Humsab Ghalib Award for Urdu Drama& Theatre (Ghalib Institute), New Delhi (1999)
Maulana Abdul Razzaque Maliahabadi for Urdu literature, W.B Urdu Academy (2004)

Zahir Anwar Presentation

Awards from U.P, Bihar, Bengal Urdu Academy on Books
Award at Raniganj Theatre Festival
Award at Urdu Theatre Academy, Kolkata
Award at C.G.W.E.C. Pune (1995)
Best play at State Level for Black Sunday (1994)
Zulmat Ko Zia Kya likhna (Best Play & Direction, W.B. Urdu Academy (1998)
Lifetime Achievement Award for Urdu Drama, The Muslim Institute
Award for Excellence for Literature and Theatre, (Akhbar-e-Mashriq)
Recognition awards for significant contributions to theatre, literature and Education from the people of Tulsa, USA, and the Urdu Literary Society of China
Honorary Tulsan from the Mayor of Tulsa, Oklahoma (2011)
Lifetime Achievement Award, RangManch (2011)
Kalidas-Ghalib Sammaan, (Kalidas-Ghalib Foundation, Delhi, 2012)
Forthcoming Publications:
Ek Anarchist Ki Ittefaqia Maut (plays)
Ghalib and Other Essays
Nelaami Ek Sultan Ki (play by Taufique-Al-Hakim)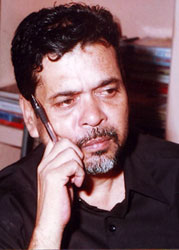 "The mimetic instinct is confined to no single country or nation; it is universal in its appeal, and reveals itself as one of the most primitive of human emotions" so said A. NICOLL, the great writer of the monumental book "British Drama". There was never a profounder truth spoken.
Bengal with its sometimes noble and sometimes frivolous intellect has been the citadel of some of the greatest dramatist of India, Mr. Zahir Anwar, the author of this Volume, "Angaroon ka Shaher" (The city of Flames) believes in the drama of passion. Self taught and unassuming, Mr. Anwar's dedication to the cause of Urdu drama has been total. Depressed with the stern vicissitudes of his personal life and the severe obstacles that the creative intellectual without material resourcefulness has to fight, he is robustly sympathetic towards those gems who remain unacknowledged. His plays are neither inventive nor difficult. They aim at portraying the shallowness and hypocrisy that engulf the genuine ones. Every inch an emotional, Mr. Anwar never refrains from displaying the raw and the un­bearable. A crusade against the polluting influences of society — this can be an apt summing up of Mr. Anwar's plays: He is tiresomely relentless in his protest against an ethos which chokes the artists, strangles the poets and gags the rebels. He weeps with his protagonists who are forced by their environment to suppress truths and suggest falsehoods.
It is really encouraging to note that the newly constituted West Bengal Urdu Academy has displayed intellect and precision in selecting Mr. Anwar's manuscripts, who is a pioneer in the field of intellectual Urdu drama, the present plays amply testify to his enormous sympathy for the poet who never reached fruition because of a multiplicity of adversities !