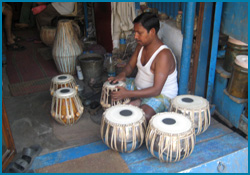 SARGAM today ranks among the most important and respected Tabla and Percussion Instrument manufacturers in India and arguably the WORLD. Established in 1966, This revered Temple of Tablas was the culmination of a dream of the founder Mr. Kamal Kumar Das (Popularly known as Kundu da). His tireless efforts and the passionate enthusiastic mission of establishing this one-of-a-kind Tabla shop, where QUALITY is the last word, has made this amazing awesome establishment possible. Presently the shop management is in the able hands of his son Mr. Gautam Das. Gautam started picking up the tricks of the trade from a very young age and has been carrying on the legacy of his father with undying enthusiasm. Tablas from this production house were ordered and used by Maestros like Late Ustad Ahmedjaan Thirkwa, Late Pt Jnanprakash Ghosh, Late Pt Kanai Dutta, Late Ustad Alfaque Hussain, Late Ustad Keramatullah Khan, Late Ustad Latif Ahmed, Late Pt Santa Prasad, Pt Kishen Maharaj, Pt Shankar Ghosh, Pt Shyamal Bose, Pt Kanai Dutta, Pt Radhakanta Nandi, Pt Mahapurush Mishra, Ustad Zakir Hussain, Pt Sanjay Mukherjee, Pt Bickram Ghosh and many others.
SARGAM's tablas have been supplied for many years to the Ustad Ali Akbar College of Music, San Francisco and other parts of USA, Japan, UK, Brazil, Germany, France, Italy, Belgium, Greece, Australia and Bangladesh.
Tablas and other similar percussion instruments are regularly purchased by buyers in bulk quantities to be sold in Indian Cities and abroad, at retail prices.
Other than the Superlative quality Tablas, SARGAM also has got in its proud collection, range, stock Indian Talvadya / Percussion instruments like DHOL, KHOL, PAKHAWAJ, KHANJEERA, MRIDANGAM and various types of foreign instruments. SARGAM's Harmonium also has carved a place, position for itself in the music world.