Advocate in kolkata / calcutta
About Him :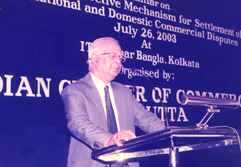 Departed Pranab Kumar Ray was a renowned Barrister of Calcutta High Court and Supreme Court (Delhi) also. He had established his credentials and contributions as one of the most leading advocates of India. For his rewarding contributions to the field of Law and Justice, he had achieved the National award (29th January, 2002) as a highest Tax payer in the sphere of Law. He had obtained the Samman Award from Income Tax Department of India. He had gained the Certificate of Appreciation from Rotary Club of Ballyguange (20th February, 2000). He was a elected member of Indian Chamber of Commerce, Calcutta. Every year, he used to deliver his valuable papers and lectures in the various seminars of Indian Chamber of Commerce, Calcutta.
He was born in Chittagong District (now in Bangladesh) on 2nd of April, 1939. The great soul had, passed away all on a sudden beyond any body's expectation on 12th January, 2005. It is a great lost for nation. It was bolt from the blue for his beloved family.
Barrister Pranab Kumar Ray's wife is Dr. Dipali Ray. She is a professor and poet also. Pranab has one son and one daughter – Mr. Pramit Kumar Ray (Bar-at-Law) and Mrs. Lopita Banerjee (Bar-at-Law). Mr. Pramit Ray and Mrs. Lopita Banerjee both are reputed Practicing Advocates of Calcutta High Court. Mrs. Ray's only son of law Mr. Ratnanka Banerjee is also a renowned Bar-at-Law of Calcutta.
Gallery :
| | |
| --- | --- |
| | |
| I | WE TWO |
| | |
| WITH OUR SON | WITH OUR DAUGHTER |
ABOUT US | SERVICES | FEEDBACK | CONTACT US | E-MAIL
Copyright (c) calcuttayellowpages.com (P) Ltd