A DANCER WITH A DIFFERENCE: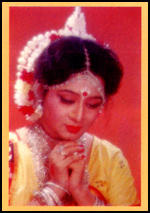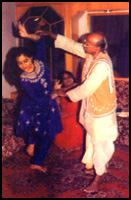 Baisakhi Mazumdar is a regular and prominent name in the world of Odissi dance. Baisakhi was fortunate enough to train under India's most renowned Guru Padmavibhushan Kelucharan Mahapatra at his Ashram in Orissa. She had the opportunity of being very closely associated with her Guru and learnt all intricacies of the dance form over a period of more than 12 years. A devoted student of Kolkata's very own Odissi Guru, Shri Giridhari Nayak, Baisakhi started learning the style since she was merely 10 years old. Born in an aristocratic family of landlords and businessmen, Baisakhi grew up in an atmosphere of literature and culture as her father Shri Rathin Mazumdar was engaged in the various tenets of business of art and culture. Baisakhi was a good student and graduated brilliantly with Honours in Botany. Her Post Graduation endeavor finally resulted in Masters in Journalism from the University of Calcutta. Baisakhi is a sensitive writer who regularly contributed articles and features to various premium newspapers and journals including Ananda Bazar Patrika, Bartaman, Anandalok and Basumoti. She was an esteemed newscaster and anchor for Doordarshan and other Satellite Channels. Her communication skills are lauded by persons of importance and she regularly compared various programmes of Governments departments.
PRESS REVIEW :
CINE ADVANCE


.... Among the girls Baisakhi Majumdar impressed the most with her lively poise. She has got a charming presence which easily makes her stand out in the crowd.

CINE ADVANCE

..... Among the performers Baisakhi Majumdar caught the eye with the gracefulness and lively poise.



ANANDBAZAR

.... Baisakhi Majumdar is the latest entrant in the list of the talented Odissi dancer.




JUGANTAR

.... Baisakhi in the role of "Srimati" won the hearts of the audiences with her realistic and lively performance.



THE TELEGRAPH

.... Baisakhi Majumdar were the highlights of natir puja.



ANAND BAZAR PATRIKA

.... Baisakhi Majumdar is a new name in list of talented Odissi Dances.



CINE ADVANCE

....Very recently the disciples of Guru Giridhari Nayak presented a veryappreciable Odissi dance recital at the

Kala MandirAuditorium.

Among the dancers Baisakhi Mazumdar easily identified herself with her individuality, grace, composure and artistry, she suited herself very well with each and every move which left a lasting impression in the hearts of the audiences.

SANANDA MAGAZINE

.... Very few artists have received such success at such an young age. She has taken Odissi dancing to a new height & forced critic and the audience to sit up and watch her perform which made them spell bound. Baisakhi Majumdar - artiste per excellence does not approve of such adultation urshered on to her, quite contrarily she is shy and stays miles away from praises. Quite recently Odissi dance lovers had a glimpse of her brilliance as she left them enchanted - dancing into their hearts with gusto and elegance for about one and a half hours at the Kala Mandir Auditorium.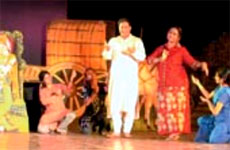 Singer Anup Jalota and Odissi dancer Baisakhi Majumdar rehearse for Ek Baisakhi Sandhya, a soiree at Rabindra Sadan on Sunday. Picture by Aranya Sen
The Telegraph, Metro
Monday, August 08, 2005
AWARD LIST :
'Jadubhatta'

Award 5th Jan, 1998.

Rahul Deb Burman Smriti Puraskar

(Best Classical Dance) 1997.

Bharat Nirman Award

(Talented Ladies Award) 1995.

Uttam Kumar Award

for (Best Dancer of the year) 1995.

Uttam Kumer Award

(Best News reader of the year) 1993.

Art Forum

- (Best Dancer of the year) 1997.

Promothesh Barua Award

- (Best Dancer of the year) 1995.

Promothesh Barua

Award Best Dancer of the year 1997. Kumar Shanu presented the Award at Netaji Indoor Stadium.

"Nritya Baridhi"

Award for Best Dance Performer 1994.

"Sambad Patrika"

Award from Bangladesh Journalist Association.

East Robust

- Presented by Governor of Tripura.

"ISCLO"

Award from Baranashi Presented by Vice-Chancellor of "Biswa Hindu University"

Kishore

Kumar Award

Sanjukta Panigrahi Memorial Award

1997.

National Art & Culture Award.

Ganga Devi Saraogi Award.

Out Standing Young Person of Calcutta.
Out Standing Young Person of Eastern India

(OYP)

Out Standing Young Person of India

(TOYP)

Pratibha Purashkar

.

Manjushree Chaki Sarkar Smriti Purashkar

.
Choreography :
'Hey Krishna' based on Hindi Bhajan, Vocalist – Anup Jalota, and Dance & Choreography by Baisakhi.
Muralia Baje – Hindi production with Anup Jalota.
Abhinab Nrityaan – Dance on Modern Bengali Song
Debi Durgatinasini – Based on hindu mythology
Bharat Amar Bharat Barsha – Dance on Patriotic Song
Amar Heiar Majhe – Rabindranritya


Gallery :
ABOUT US | SERVICES | FEEDBACK | CONTACT US | E-MAIL
Copyright (c) calcuttayellowpages.com (P) Ltd