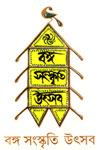 Chitra Lahiri : General Secretary 'Banga Sanskriti Utsav'
(Registered under the Govt. of West Bengal Registration Act - Reg. No.: S/IL/23898 of 2004 )
Address : 48, R.K. Ghosal Road, C/202, Basanta Bahar, Kolkata - 700042
Phone : 98311 13533, 99030 13533
Keeping in tune with the various forms of Bengali Culture and maintaining the past tradition of Banga Sanskriti Sanmelan, 'Banga Sanskriti Utsav' was inaugurated on 20th December 2000 under the stewardship of writer Shri Sunil Gangopadhyay.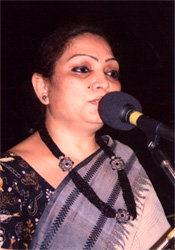 In the three platforms (Ganga Padma, Abbasuddin and Shimul Palash) the function continued for 13 days. Here the participants were not only from West Bengal but almost 7500 participants comprising of litterateurs, artists and intellectuals from all over the country participated.
Banga Sanskriti Utsav committee has many talented members from the world of arts, culture, film and sports. The names are Mrinal Sen, Sankha Ghosh, Dwijen Mukhopadhyay, Sayyad Mustafa Siraj, Soumitra Chattopadhyay, Navanita Deb Sen, Jogen Chowdhury, Bibhas Chakraborty, Deb Dulal Bandopadhyay, Dibyendu Palit, Subha Prasanna, Khiti Goswami, P. K. Bandyopadhyay, Pabitra Sarkar, Shyamal Kanti Chakraborty, Dilip Chakraborty, Pankaj Saha, Adhrisya Kumar, Ashis Chakraborty, Anup Bandyopadhyay and many others.
Banga Sanskriti Utsav completed 09 years in 2010. Every year festivities are held for 10 to 13 days covering a spectrum of activities ranging from Rabindra Sangeet, Nazrulgeeti, Dwijendrageeti, Atul Prasadi, Rajnikanta, Adhunik, Margo Sangeet, Jatra, Discussion, Recitation, Dance, Declamation, Story telling, Debate, Cinema, Folk Dances and sports like football & kabaddi. The functions are held in Bhasha Uddayan and in Lalan Mancha (Opposite Raj Bhavan).
For the past 9 years in the musical instrument category was inaugurated by the reputed 'Chou' dance expert Gambhir Singh Mura and Purna das baul, the Dhol exponent Baren Das Dhuli, Gitashri Jhuthika Roy, Padmashree Sabitri Ghosh, Painter Paritosh Sen, Actress Bharati Devi, the Renowned Film Director Mrinal Sen, Folk Dance artiste Swadhin Bittar and Dukhushyam Chitrakar.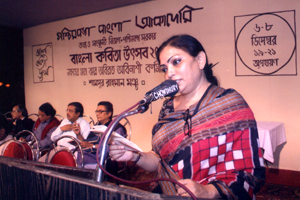 In Banga Sanskriti Utsav for the past 9 years, the personalities who have been honoured, are Paritosh Sen, Labanya Prava Ghosh, Ustad Vilayat Khan, Hirendra Nath Mukhopadhyay, Subhash Mukhopadyay, Amar Pal, Sambhu Bhattacharya, Purna das Baul, Sanatan Das Baul, Baren Das Dhuli, Juthika Ray, Sabitri Ghosh, Sabitri Chattopadhyay, Swadhin Bittar, Dukhushyam Patua, Shailen Manna, Hasan Imam, Sarod Player Budhadev Dasgupta, Ramkumar Chattapadyay, Kumar Ray, Tapas Sen, Jamuna Barua, Mrinal Sen, Shiv Narayan Ray, Kalachand Darbesh, Sayad Mustafa Siraj, Somnath Hore, Dwijen Mukhopadhyay, Debdulal Bandopadhyay, Sukumar Samajpati, Aloke Ranjan Dasgupta, Shantigopal, Sekhar Gangopadhyay, Tarun Majumder, Sirsendu Mukhopadhyay, Navanita Deb Sen, Rudra Prasad Sengupta, Prolhad Bramhachari, Enamul Haq, Sudhir Chandra, Khaled Choudhury and other people of talent participated.
For every year the Utsav program has been presided by Shri Sunil Gangopadhyay and has the august presence of the present Chief Minister of West Bengal, Mr. Buddha Dev Bhattacharya, Amartya Sen, Robi Sanker, Priyo Ranjan Das Munshi, Amlan Dutta, Nirendra Nath Chakraborty, Sankha Ghosh, Buddha Dev Dasgupta, Kumar Roy, Jogen Choudhury, Bibhas Chakraborrty, Khiti Goswami, Suva Prasanna, Dibyendu Palit, Late Minister Subhas Chakraborty, Minister Pratim Chattopadyay, Tripura Minister Anil Sarkar, Ex- Mayor Subrata Mukhopadhyay, Mayor Bikas Ranjan Bhattacharya, Aasadujjaman Noor, Shyamal Kanti Chakraborty, P.K. Bandopadhyay, Soumitra Chattopadhyay, Abdul Goffar Choudhury, Amala Shankar, Swati gangopadyay, Pandit Ajay Chakraborty, Madhabi Mukhopadhyay, Ustad Rasid Khan, Biman Mukhopadhyay, Ruma Guha Thakurta, and other distinguished people.
Every year Banga Sanskriti Utsav organizes competitions in the field of Rabindra Sangeet, Nazrulgeeti, Dwijendrageeti, Rajanikanta, Atul Prasad, Adhunik, Bengali Folk Songs, Recitation, Declamation and even in sports like football and kabaddi.
The next Banga Sanskriti Utsav festival will start on 12th February 2011 and will continue till 21st February 2011. This will also commemorate the 150 year birth anniversary of Kavi Guru Rabindra Nath Tagore. The functions will be held in Bhasha Uddyan & Lalan Mancha (opp. Of RAJ BHAVAN)

Chitra Lahiri : General Secretary, Bhasha Shahid Smarak Samiti,
Registered by West Bengal Government, Serial No. S/IL/24694
Address:
"Parijat", Flat - A2/9, Mandeville Gardens, Kolkata - 700 019
Phone: 98311 13533 / 99030 13533
In the year 1405 (Bengali Calendar) 1994 keeping the pride of place of Bengali language with the objective of its propagation and spread under the leadership & chairmanship of Shri Sunil Gangopadhyay and the support of Poets, Artists, Writers, Sportspersons and intellectuals Bhasha Shahid Smarak Samiti came into shape.
On 21st February 1998 and in memory of the Martyrs in 1952 under the planning of Shri Badhan Das in the Dharmotala area Surrendra Nath Udyan (presently named Bhasha Udyan). Bhasha Shahid Smarak was established by writer Shri Annadashankar Ray, Mrinal Sen was the chief guest and under the chairmanship of Shri Sunill Gangopadhyay.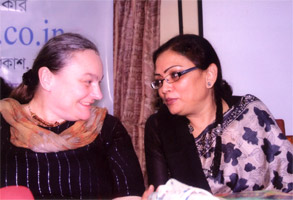 On 12th December 1998 Bhasha Udyan (a portion of Surendra Nath Udyan opposite Raj Bhawan) in the name of Mahamati Lalan, Lalan Manch an exclusive platform was inaugurated by Poet Arun Mitra.
On 15th April 2001 (Bengali Calendar 1409 Paila Baishakh) a portion of Surendra Nath Udyan was named Bhasha Udyan and was inaugurated by Poet Subhash Mukhopadhyay. In Bhasha Udyan Ram Kinkar Open Art Exhibition Gallery was inaugurated by artist Paritosh Sen. Satyajit Ray's Paras Pathar was inaugurated by the popular actor Shri Soumitra Chattopadhyay.
19th May 2003 (1409 Bengali Calendar) in Cachar District of Assam is the 1964 language movement in memory of eleven martyrs a memorial was established which was inaugurated by famous dramatist Kumar Ray.
On the occasion of International Museum day the Indian Museum management spent Rs. 2.5 lakhs to set up the language alphabet branch and was inaugurated by the Director of Calcutta Museum Shri Shyamal Kanti Chakraborti.
Tree Plantation Utsav: In Bhasha Udyan a tree plantation ceremony was conducted by Sayeed Mustafa Shiraj on 12th December 1999 in support of the revolution promoting Bengali language in Dharmatala area under the statue of Lenin a hunger strike was launched for 12 hrs. On 5th August 2003 in Gandhi Bhawan a 24 hrs. strike was initiated. Shahid Smarak Samiti on 20th September 2003 in Rani Rashmoni Road disregarding any law put forth their demand of Bangla.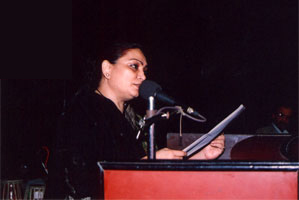 In view of this demands for the usage of Bengali public rallies have been held use of Bengali in all Government work. Making Bengali compulsory up to Madhyamik Board for all Universities (Govt. or Private). In all names, road direction and prioritise Bengali language as a medium of instruction. In this regard Bhasha Shahid Smarak Samiti has participated in all kinds of movement and whose movement is still continuing.
Also Samiti is seriously taking up the cause of changing Paschim Banga to Banga or Bangla. Samity also follows some rituals religiously like Cachar Bhasha Shahid Diwas, Kabi Pranam, Matri Bhasha Utsav, Briksho Ropon Utsav. This is over and above the annual cultural festival held every year.
Bhasha Shahid Smarak Samiti chambers comprises of eminent people from the field of sports, arts & culture, Mrinal Sen, Sanko Ghosh, Dwijen Mukhopadhyay, Saeed Mustafa Siraj, Soumitra Chattopadhyay, Khiti Goswami, Jogen Choudhury, Debdulal Bandopadhyay, Dibyendu Palit, Bibhas Chakraborty, Suvo Prasanna, Pabitra Sarkar, Shyamal Kanti Chakraborty, Dilip Chakraborty, Pankaj Saha, Adhrishya Kumar, Sajal Ray Choudhury, Ashish Chakraborty, Anup Bandopadhyay.
Also present were Argha Sen, Debdulal Bandopadhyay, Tarun Sanyal, Gopal Bandopadhyay, Jyoti Prakash Chattopadhyay, Budhadev Dasgupta.
Those who participated in the hunger strike are Chitra Lahiri, Dilip Ckakraborty, Ratan Basu Majumder.
Also present were Purnadas Baul, Tarun Sanyal, Bibhas Chakraborti, Suva Prasannya, Shaktinath Jha, Chitra Lahiri, Saikat Mitra, Dilip Chakraborty, Ratan Basu Majumder, Subodh Sarkar, Pallav Kirtaniya and others.