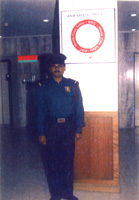 We are in the field of Industrial, Commercial and Private Security, serving various Multi Nationals, Private Companies and Govt. Concerns since 1985. Our boards of advisors consist of Ex Officers of Kolkata Police, Ex Defence officers and Multi National Company Executives.
Trained supervisors and field officers with the capability of handling any untoward incident are always available on call.
We are open for all 365 days in a year. Our deployment staffs are also available for 24 hrs.
We provide hand held Metal Detectors as and when required and our office documentation management is fully computerized. We conduct regular night checks.
Our training of guards is conducted by supervisors of the rank of Ex Havaldars and Subedar Major of Indian Army.