Programmer ...
Kumar Roy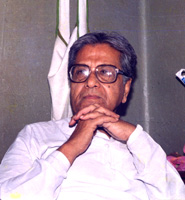 Born in 1926, Dinajpur (Now in Bangladesh) Kumar Roy had been closely Associated with BOHURUPEE through his career in Theatre. His Mentor / Guru was legendary Sri Sombhu Mitra. He had headed the group as its president and director. As an anchor, he is known for his Roles in RAKTAKARABI, PUTULKHELA, BISARJAN, RAJA, MUKTADHARA, PAGLA GHODA, MUDRARAKSHAS, BAKI ITIHAS, CHOP ADALAT CHOLCHE, MRICHCHAAKATIK, GALILEO, RAJ DARSHAN, DHARMADHARMA, AGUNER PAKHI, MALINI, NABANNA, NINDAPANKE, EK DIN EK RAAT.
Formerly, professor of drama, Rabindra Bharati University in Calcutta. Visiting Fellow at Visva Bharati, Shantiniketan, in 1986.
Award –
Received SANGEET NATAK AKADEMI AWARD in 1983 NATIONAL THEATRE AWARD, Nandikar in 1985, DINABANDHU PURASKAR in 1993 (West Bengal)
Plays Directed –
CHAURYANANDA (By Tulsi Lahiri, 1956),

NATYAKARER BIPATTI (Ajit Ganguli, 1956),

GEETARATNA (Chittaranjan Ghosh, 1956),

MRICHCHAKATIK (Shudrak, 1979),

GALILEO (Brecht, 1980),

RAJDARSHAN (Manoj Mitra, 1982),

AGUNER PAKHI (Jeon Anouilh, 1984),

MALINI (Rabindra Nath Thakur, 1986),

MR. KAKATUA (Prashanta Deb, 1987),

YAYAH (Girish Karnad, 1988),

KINU KAHARER THETAR (Manoj Mitra, 1988),

NABANNA (Bijon Bhattacharya, 1989),

NINDAPANKE (Jean Paul Sartre, 1991),

SHYAMA (Sisir Kumar Das, 1992),

AKBAR BIRBLE (Sisir Kumar Das, 1993),

PIRITI PARAMA NIDHI (Chittaranjan Ghosh, 1994),

SINDUK (Sisir Kumar Das, 1995),

MUKTADHARA (Rabindra Nath Thakur, 1996),

EK DIN EK RAT (Sisir Kumar Das, 1997),

HINDI RAKTAKARABI (Lal Kaner), (In Hindi, 1986 Under Sangeet Kala Mandir Banner),

ITIHASER ATMAA (2000) by Ashim Chatterjee,

FULLA KETUR PALA (2002),

NISHIDDHA THIKANA (2004),

DEEPA DANDA (2005)
Publications –
tilottama shilpa. 1980 NATYA BMAVITABYA O RABINDRANAT H. 1986 SOMBHU MITRA : NIRMAN-O-SRIJAN AND MOKAM KALIKATA : NATYA RANGA, 1997 KABIR ABHIGHAT O KABIR NATAK. 1998 RABINDRA NATAK : ALOKITA UDVABAN 1999
Editor of "BOHURUPEE" Journal and regular contributor in Magazines, Newspapers and Periodicals.
Represented India in the regional meeting on the status of the Artist, In the field of Performing Arts, which took places in South Korea) In 1991 under Unesco National Commissions of the Asian and Pacific Countries.
Tarapada Mukhopadhyay
Theatre Life -
Actor in Bohurupee -
In plays directed by Sri Sombhu Mitra the Doyen of Modern Indian Theatre Raktakarabi, Putul Khela, Raja Oedipous, Raja, Baki Itihas, Barbar Banshi, Chop Adalat Cholchey.
In plays directed by Smt. Tripti Mitra - Dakghar, Pterodactyl, Ghare Baire, Yadi Aar Ekbaar, Kimbadanti, Sedin Bangalakshmi Banke, Gandar.
In plays directed by Sri Sumar Roy - Geeta Ratna, Mrichhakatik, Galileo, Rajdarshan, Aaguner Pakhi, Muktadhara, Mister Kakatua, Kinu Kaharer Theatre, Nabanna, Akbar Birbal, Pireeti Paramanidhi, Ek Din Ek Raat, Nisiddha Thikana, Deepadanda.
In plays directed by Sri Amar Ganguly - Chakrabuha, Dharmadharma
In Bohurupee - Set incharge for several years.
Plays directed in Bohurupee
Chhanch Bhanga Murti, Dhritabanasi, Pati - Paksha, Aayna Harin,
TV Serial - Mentionable
Sei Samaya, Bakul Katha, Antarale, Prati Chuanna Minute, Aleya, Manik, Mitra etc.
Drama Artist - All India Radio, Kolkata.
Awards - Mentionable
Airlines Cultural Organisation - Kolkata - Contribution to Bengali Theatre
Anya Theatre - Kolkata - Distinguished Theatre personality Natya Swapnakalpa - 2004
Dishari - Kolkata - Best Actor - Nisiddha Thikana - 2004
Natya Panjika Kolkata - Satya Bandopadhyay Smriti Puraskar, Best Actor - 2004