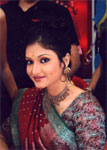 Trendz hair dressers have authenticated wedge BOB (graduation blunt graduation this seasons favourite adding not only Style which dresses the hair thus leaving it manageable and complimenting its bounce brings in applause and Smile on every women lips perhaps an inner desire for hair fulfilled.
The most vital part of hair dressing hair colour which further enhances the Style time memorial has witnessed woman and men adorning their hair with various accessories and colour well known as Henna which has been predominant through centuries. Now with new omproved technologies and world wide international brands have worked round the clock to bring in the new concept hair colour like chest nut honey blonde red contrast combination of the above trio not only adds pepper back to Salt Simultaneously increases the multi dimensional effect of highlights.
Highlights can be added to any natural or artificial base colours honey blonde has the ability and the capacity to transform base colours into lighter Strands that are dazzling and alluring.
Global colouring, couture cuts, various kinds of creative hair Styling, Hair Smoothening, highlighting and perming are offered, hair treatment list extensive ho. From hair Spa package to indulge and pamper damage hair.