Qualifications:
MBBS, MS, MCh (Plastic Surgery)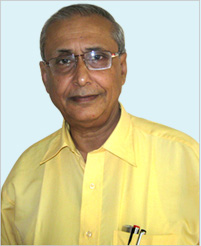 After passing MBBS in 1969 from Assam Medical College, Dibrugarh, Assam, Dr Sankar Chatterjee started his carrier from the grass root level as a Medical Officer in Haldibari Primary Health Centre in Coochbehar district under West Bengal Health Services in 1972.
He got transfer of his service to the Plastic Surgery Department of SSKM Hospital and Institute of Post Graduate Medical Education and Research (IPGME&R), Kolkata in 1977.
Remaining in service he obtained post graduate MS degree in General Surgery and post doctoral MCh degree in Plastic Surgery from IPGME&R, Kolkata.
Immediately after joining SSKM Hospital & IPGME&R, Dr Chatterjee came in contact with Late Prof Murari Mohan Mukherjee, one of the pioneers of Plastic Surgeons in India. He was the Plastic Surgeon who established the first self sufficient Plastic Surgery Department in SSKM Hospital, Kolkata which was first of its kind in India. Dr Sankar Chatterjee feels proud for being a very beloved student of a stalwart like Prof Mukherjee. Dr Chatterjee worked with this stalwart
for 11 years from 1977 to1988 till his demise.
Apart from working in SSKM Hospital, Dr Chatterjee worked in the Plastic Surgery Department of almost all the Medical Colleges of Kolkata e.g. NRS Medical College, National Medical College, RG Kar Medical College.
He was the Head of the Department of Plastic Surgery, R G Kar Medical College, Kolkata from 1993 to 1999.
Dr Sankar Chatterjee retired voluntarily from his service under West Bengal Medical Education Services (WBMES) on 1st March 1999.
He is practicing exclusively in Plastic, Cosmetic and Reconstructive Surgery since 1977.
Dr Chatterjee is Life Member of Association of Surgeons of India (ASI), Association of Plastic Surgeons of India (APSI), National Academy of Burns of India (NABI), Indian Medical Association (IMA).
In the year 2006 Dr Chatterjee has joined Tripura Medical College, Agartala as a Visiting Professor where he visits every month for 5 days to take a few lecture classes for the students and to do several plastic surgery operations.
Dr Sankar Chatterjee is a Credential Surgeon of SMILE TRAIN, a New York based non government organization that sponsors for operations of Cleft Lip and Cleft Palate for poor patients. Operations are done totally free of cost including investigations, operation and medicines. Dr Chatterjee is doing operations for SMILE TRAIN in Agartala, Tripura and Silchar, Assam. He has done 900 operations of Cleft Lip and Cleft Palate in these two centres from October 2008 to October 2014.

Present Status:
Honorary Consultant Visiting Plastic & Cosmetic Surgeon of
Microlap Nursing Home. 24 Bepin Pal Road, Kolkata : 700 026, West Bengal, India.
Apollo Nursing Home & BN Basu Memorial Clinic, 34B Jatin Das Road, Kolkata -700 029.
Paramount Nursing Home, Hazra Road, Kolkata 700026
Woodlands Hospital & Medical Research Centre, Alipore, Kolkata.
Belle Vue Clinic, Loudon Street, Minto park, Kolkata.
Park Clinic, A J C Bose Road, Kolkata