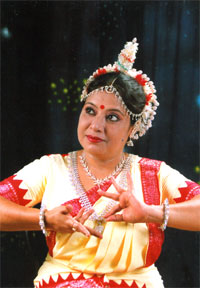 In the mean time she graduated in Psychology from Gokhale College and was selected as a group member to perform in the opening day of PAT A conference at New Delhi by Ananda Shankar and Tanushree Shankar.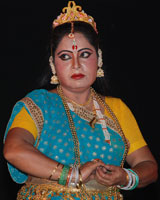 As she was becoming more & more accustomed with the group and was marked by 'Ananda da' as the liveliest dancer of the group, to improve her dancing skill she started taking part in the workshops conducted by Padamshree Guru Kelucharan Mahapatra at Padatik. That time onwards she fell in love with this particular dance form. In the year 1982 she availed the opportunity to become the staff artist of Shri Ram Bharatiya kala Kendra, New Delhi. There she continued taking lessons in odissi from Smt. Aloka Panickar. As she had to complete her Masters, she returned to kolkata, completed M.A. and started working with Late Shri Asit Chatterjee, who was her God Father from the very beginning - as assistant. From than onwards she is with RAGINI and slowly but steadily has become the secretary of the group. In the whole journey there are so many mile stones to be marked: - some are like, Achieving "A" level in kolkata dooradarshan, to become dancer of Rajya Sangeet academy, perfoming in' National programme of Dance' etc.
In the year 1988 she joined Ballygunge Shiksha Sadan School as a dance teacher. Worked there for 4 years, switched over to Hartley's Pvt. School, finally she joined M.P.Birla School in the year 2000 and till now she is the dance instructor of that school. With this she started her own school Nritya Kala Bikash Kendra and since than she is trying to nurture future artists.