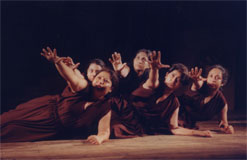 Arundhati joined
Theatron in the year 1998
, from then she is the active member of this group. She acted in
"Tapasyi and Tarangini", "Tomari Matir Kanya" and "Bhusandir Mathe".
Now she is acting in there latest production "Bernarda Albar bari. Theatron have remained around for over 30 years now, in Kolkata, the cultural capital of India, and it has survived despite its dogmatic stand. She is part of Theatron. She is a part of group that has never gone for numbers that has always measured success by the aesthetic standards it has been able to set, and the extent to which it has been able to enthrall and captivate and touch the people.The group was formed in April 1974.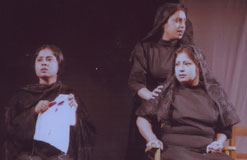 Our
latest production: - The House of Bernarda Alba
is
Federico Garcia Lorca's last play.
This is the story of frustrated desires, played out in the oppressive heat of Andalusia,inside the claustrophobic confines of closed walls and within the boundaries of a suffocating society.
Translated by Salil Bandopadhyay and directed by Saswati Biswas.