Mahashakti Engineering Works are one of the prominent manufacturers, traders and exporters of wide array of Flour milling machines and components. Our complete assortment entails Maize Plant - Cleaning Section, Maize Plant - Milling Section, Sattu Plant, Besant Plant, Whole Wheat Flour Mill - Cleaning Section, Whole Wheat Flour Mill - Milling Section, Wheat Roller Flour Mill - Cleaning Section & Wheat Roller Flour Mill - Milling Section.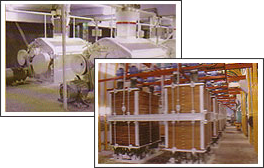 We have created modern infrastructure over a large area to produce various plant machineries in large number. Our infrastructural setup is equipped with modern machines and allied components to manufacture engineering products as per the international quality standards. We have installed high capacity conveying, Lathe, drilling, die casting and other machines in our production unit that helps us in production of superior range of plant machinery.
Our various infrastructural wings are well managed and well segregated. These wings are efficiently handled by our team of experience and qualified professionals, who work hard to fabricate industrial machines as per the industry standards. Our range caters the diversified requirements of various industries such as chemical, flour production, food processing, paint, plastic units and many more.

We have furthermore, also created extensive marketing and supply network to deliver the consignments within the stipulated time frame. Our distribution and logistics centers are well connected with each other with modern communication devices to monitor the exact location of consignment during the delivery. We work under the dynamic leadership of our mentor Mr. Ashish Kanodia, who is also founder of the company. His clear business vision and rich entrepreneurship skills have enabled us to carve a niche in the domain field.
Our Quality Assurance :
We strive hard to produce our engineering machines strictly as per the international quality standards. To meet the various parameters laid down by the industry, we have established a modern infrastructure. Our infrastructure is equipped with the latest machines and control systems to produce plant machinery as per the industry specific norms.
Our team of expert quality analysts precisely checks each engineering product on well defined parameters during the production process to rectify any sorts of defects or flaws. We continuously upgrade our plant facilities with new and improvised machines to produce high performance flour mills and other products in the market.
The complete assortment is tested on well defined parameters as mentioned below:
Performance
Corrosion resistant finish
Electricity consumption
Shock proof design
Client satisfaction :
As a client oriented enterprise, our main objective is to make superior range of engineering products for our customers. Our entire array of engineering machines and equipment is fabricated strictly as per the international quality norms. Furthermore, we also offer our comprehensive array at affordable prices. To satisfy the changing demands of the customers, we continuously develop new and innovated machineries.
Our cost effective engineering products are delivered at various clients' destinations through a well equipped marketing and distribution network. Furthermore, we owe ethical business policies in our entire business deals that have helped us to keep our competitive edge intact.