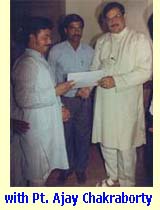 Prasenjit Sil, born in a music-loving family, Calcutta, India, makes a very rare combinations, having academic qualifications, as well as proficiency in performances in Indian Classical Music in Tabla, Khole, Pakhawaz etc.
At an impressionable age of five he went to learn Tabla at the feet of his Guru Pt. Sohan Lal Mishra, a respected maestro of Thumri and Tabla belonging to the famous Benaras Gharana. After a long training at the tender age of eighteen he tied the knot under the kind guidance of the world-famed Tabla Maestro Pt. Ananda Gopal Bandopadhyay with full dedication.
Prasenjit is Master of Arts (Tabla) from Rabindra Bharati University. He became a successful soloist as well as a sought after accompanist. He handles recordings with equal case.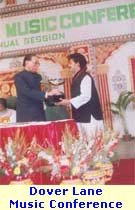 Indian Classical Music is an on-the-spot creation within the framework of a raga. Providing accompaniment for a pre-composed item is totally different from that of a spontaneous improvisation. Here the mood of the artiste reigns supreme. The supporting artiste has to understand the psyche of the musicians as well as the requirement of the moment. Based on this the accompanist decised to provide wither subdued support or one to one dialogue or to give absolutely thrilling display of his taleem, riyaaz and talent.
Prasenjit and his Tabla have all these characteristics in abundances.