THE TEAM
ESO NATAK SHIKHI is a drama group enthusiasts aged between five to fifteen who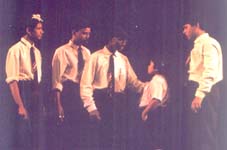 take time off their academics to sharpen their acting ability with all seriousness. It is a center for theater training and production running for 12 years braving all odds. They perform with equal ease and skill not only at the city Kolkata, but in the suburbs and villages of Bengal as well as in other cities like Hyderabad, Allahabad, Lucknow, Dhanbad, Bongaigaon, Gorokhpur, Cuttack and so on. To us children's drama does not mean staging of fairy tales. Our productions are strikingly topical. Sometimes it is grabbing of a green stretch by landshark, or how the urban glitz spoils a boy who could speak to trees & bird freely. Terrorism, international conflicts too are brought alive by these little actors on stage. The basic idea is to show the intrusion of the vices of the adults on the children's world. The troupe has kept on earning laurels from competitions within and outside West Bengal. Telecast of their play has also done by ETV Bangla.
THE LEADER
The Man behind the enterprise is Tapas Das, a veteran actor of Nandikar, Gananatya and other theatre groups during eighties. Himself the founder-director of the troupe, Das is a playwright too.
Born in 1957, Sri Tapas Das is a post-graduate in Life-Science & in Education. Teaching is his profession & theater his passion. Das had his acting debut at the age of seven. He joined Sailpik, a theater group of Howrah when he was 19.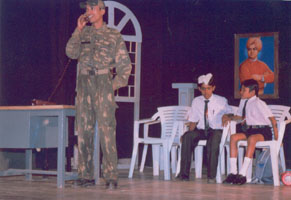 He never looked back since then. After a brief stint in training at Paschim Banga NAtya Academy (West Bengal Drama Academy), he began to appear regularly on stage. The Class-teacher in Nandikar's "Football", and Paul Shal in "Barricade" of Tripura Sanskriti Parisad are fondly remembered by the theater enthusiasts. Das has also left his mark as Basu in the recent Pratyasha Natyagosthi production "Tias" and as The Old Father in "The News", a TV production of Chhandabharati. Das's organising acumen is evident in the year-long theater training camp organised in collaboration with DYFI, where he was the Course-director. Das is an author too. He has three collections of one-act plays - "Bhupaler Sanket", "Tin Kishore Ekanko" & "Santir Janya" to his credit. He writes columns for a number of theater magazines like Group Theater, Asamoyer Natyabhabana, Pryag Patrika, Theater Arnab etc. Telecast of his play "He Mahajiban" has also done by ETV Bangla. Presently, he is involved in experiments as writer-director in a theater group for children "Eso Natak Shikhi" and in his school The Oriental Seminary. On 18th Sept. 02 National Theater Conference at Cuttack has honoured him by "Natyabhusan" for his work on children theater. He was the only representative from India in the International Seminar on Children's Thaetre at Stuttgart, Germany in June 2005.
Performances
Maranastra (The Lethal Weapon)

Time – 44 min, Cast – 8, Staged – 30

Theme – The minister of Prachinpur has constructed a lethal weapon. The emperor of the neighboring country did the same by stealing the formula. The child king with the help of the shepherd girl and a bird unfolded the conspiracy and destroyed the weapon.
Bubuner Aankarog (The Drawing Disease of Bubun)

Time - 42 min, Cast- 6, Staged - 2
Theme - Little Bubun is obsesed with drawing. Be it the time for homework or map pointing, he goes on drawing the same picture. Once asked to write an essay on childhood in the classroom, he causes a flutter by drawing the picture of his dream. The family Guruji's attempts fail to solve the problem. Then comes in a psychiatrist. Does he find a way to cure the disease?
Press Clippings