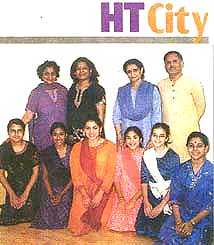 Thursday, 27 November 2003
HT City Correspondent

A Quest For Kabir Rooted In Chicago
THE QUEST for root can take several expressions for Indians living abroad. For Indian girls and women living in Chicago and its outskirts, learning Indian classical dances - Kathak in particular - is one such.
Ambika, Shivani and Neha – to name only a few – are training in Kathak under noted artiste Sandhya Desai at the Anila Sinha Cultural Foundation in Chicago. More importantly neither Desai nor Dr. B K Sinha, who has set up the cultural institution, are content with mere praise. They approached the prestigious Prayag Sangit Samity of Allahabad to examine their students, a rigorous task now being executed by Sangeet Pravin Surangama Dasgupta.
Dasgupta, who is also head of the dance section at Bengal Music College, has just returned from Chicago after examining 45 students. "The Desication that I witnessed, both on the part of the teacher as well as the students, is remarkable. Kathak is a difficult dance form but the pupils (age between 10 and 30) can present torah, tudka, paran, tarana and tatkar with equal ease."

A 60 year old Indian lady doctor was among those who took the examination last month. This meticulous training and practice, however, needs to be strengthened by a command over the theory of Indian Classical Dance.

Prayag Sangit Samity, in fact, has granteed affiliation to several Indian dance centers in England, Russia, Canada and Singapore. Every year, examiners, who are also reputed dancers and teachers are sent to these countries by the Samity to conduct examinations.

These visits are also utilized to hold workshops and performances from which the students can learn more. Describing the workshops, Dasgupta says, "Here I try to blend theory with practical because only if you have a thorough grasp over theory – which gurus like Nrityabaridhi Bela Arnab did – can you understand the different nuances of nritta, nritya and abhinaya."

As they perform, examiners show how the technique and artistry of Kathak can be used to choreograph entirely new creations. Dasgupta herself danced to the dohas of Kabir – her own choreography – at the Nehru Centre in London, Manitoba University in Canada and the International House at Chicago University.

Everywhere, audiences watched spellbound as she enacted Kabir's word, "where do you search? I am neither in the temple nor in the mosque, I am with you in every human breath." Next year, Natalia, Bansi and Ami in Chicago will also dance to the songs of Meera, Lalan and Kabir. This quest for roots is both creative and sacred.