The Times of India 30-12-1984 (Bombay)
"Pleasing recital by Barman"
K.N.Barman was the first male dancer to perform on the fifth days of the 22nd Kalke Kalakar Sangeet Sammmelan, held at the Birla Kreeda Kendra. Tall, slim and simply clad Barman ...... Alarippu............ Sabdam depicting the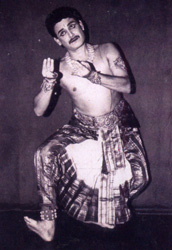 childhood pranks of Krishna was dealt with a fine understanding of subtle "bhava" Natanam Adinar introduced Barman's command over "nritta". The various "Sthanakas" and clear cut movements with suitable bends and curves were a revelation of the ardous training the Barman has received in Bharat Natyam from Rukmini Devi Arundale of the Kalakshetra.
The Economic Times, Calcutta, Sunday, 28th March, 1999
"Guru Barman steals the show"
If you think you have to be in Kalakshetra of Rukmini Devi, if you are young aspirant of the Kalakshetra style of Bharatnatyam, you are highly mistaken. Sitting here in Calcutta you can jolly well learn this unique dance style from Guru Barman. He is one of the front ranking followers of the style and is a direct pupil of this great visionary ..... He is a quiet worker, who shuns publicity and propagates this dance style through his institution - "Natanam Kalakshetra", in Calcutta. In a recent performance at Rasika Ranjana Sabha, the Guru himself danced to Keertanam by saint Tyagaraja...... He pleased the audience through his flawless rendition. Besides this, the Guru performed three other dance solos, establishing his virtuosity, talent and discipline. Anubhav Darpan—the mirror of experience -was his production, which showed his power of Choreography......